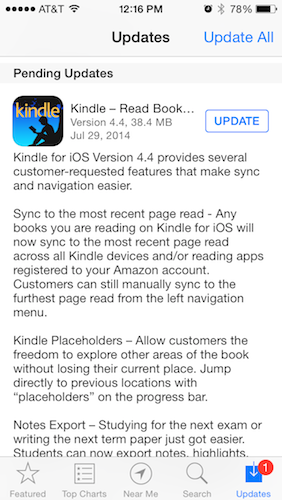 Kindle is already one of the most frequently used digital reading apps available for iOS, boasting access to over 1,000,000 books in the Kindle store in addition to hundreds of newspapers and magazines. While the existing interface was clean and easy to use, Amazon has implemented a number of updates in version 4.4 that promise to make sync and navigation easier.
One of the handiest new features is the ability to sync to the most recent page read. This means that all of your devices (whether they are iOS, Android or any device using the reading app and registered to your Amazon account) will agree on the last page you actually read (instead of just the furthest page). This is incredibly convenient when you read books like I do –needing to jump backward to remind yourself of past happenings in the volume and then continue from where you were.
Placeholders are also new, allowing you to flip around and explore new areas of your book without changing your current bookmark.
Finally, notes export is a fantastic tool for students and researchers alike. As you are reading, highlighting, and making notes, you can then email these items to yourself. Features like this are critical if electronic books are ever going to fully replace paper textbooks in classrooms.
If you are using an iPad or iPhone, you can download Kindle for your iOS device for free from the Apple App Store. If you are using an Android device, you can download Amazon Kindle (though you won't see these latest updates in this version just yet).
Jillian Koskie is an experienced software developer, content writer, project manager and usability design expert. With over 17 years in these roles, Jillian has enjoyed applying her skill-set to assist clients and users across a wide variety of sectors including: legal, health, and financial services. Combining these professional opportunities with a love of technology, Jillian is pleased to contribute articles, opinions, and advice to numerous news outlets, websites, and publications.