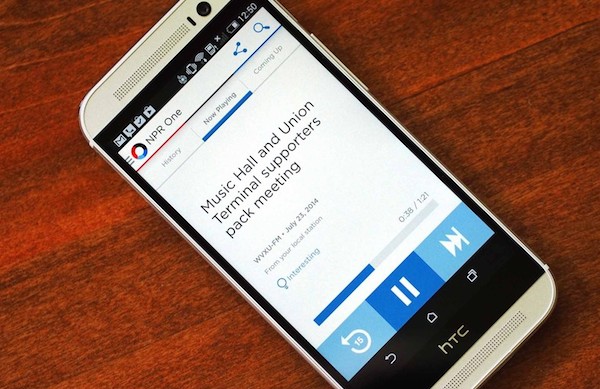 It is doubtful that anybody misses the days when listening to your favourite radio programs meant watching the clock and tuning in at a particular time. These days, life doesn't have to revolve around radio schedules –using the NPR One app, you can tune in and start following the stories and news that matter to you (including local news that will be woven seamlessly into your audio stream).
Following in the footsteps of other customized and curated streaming media apps, like Pandora, NPR One gives you two introductory segments; once you are hooked, create an account and swipe your way through the presented audio (left to skip ahead, right to see your listening history). Want to hear something specific? Use the integrated search to find the programs you like best.
This is another app that evolves: tag stories as interesting so NPR One can learn what you like.
Technical features of the app are what you would expect: skip, rewind, pause, and share individual shows, stations, and podcasts. The user interface is described as sparse, but many will appreciate the short learning curve and ease of use this affords; simple is refreshing.
If you love public radio, start enjoying your favourite stations by downloading NPR One for free now.
Jillian Koskie is an experienced software developer, content writer, project manager and usability design expert. With over 17 years in these roles, Jillian has enjoyed applying her skill-set to assist clients and users across a wide variety of sectors including: legal, health, and financial services. Combining these professional opportunities with a love of technology, Jillian is pleased to contribute articles, opinions, and advice to numerous news outlets, websites, and publications.