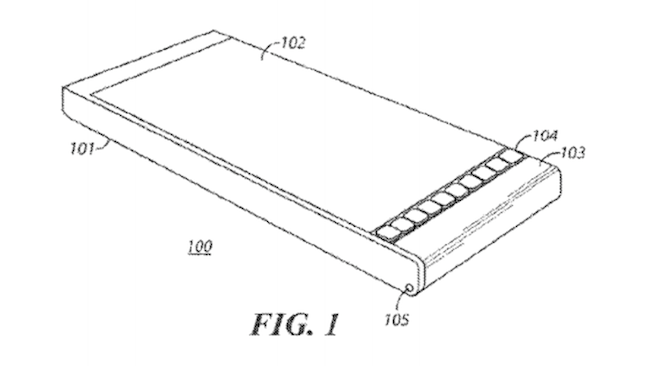 Since the beginning of the smartphone, BlackBerry has held fairly strong (with very few exceptions) to the idea that users want a physical keyboard. With the upcoming BlackBerry Passport, this philosophy stays true –and if a patent application that was recently discovered is any indication, nothing will be changing anytime soon.
Text from the patent application indicates a three-row keyboard that is designed to be partially hidden:
"A keyboard portion is configured to move (with respect to a housing) between a deployed position and a non-deployed position. A cover pivotally couples to the housing and is configured to at least partially cover the keyboard portion when the keyboard portion is in the non-deployed position and to reveal the keyboard portion when the keyboard portion is in the deployed position. By one approach the cover is configured to move the keyboard portion between the deployed position and the non-deployed position as the cover pivots with respect to the housing."
Unlike the fold-out keyboards seen on smartphones of yester-year, this design seems to be a merging of (the best of) two worlds: the ability to use actual keys for typing without being so -obvious- about it. Reading between the lines (so to speak), leads us to believe that when folded, one row of keys would remain visible –likely giving way to gestures or special functionality to be enjoyed while in this format.
Also flying around right now are rumours of new BlackBerry devices code-named 'Visa' and 'Victoria' that could feature a 5.5″ touch display on a LCD unit powered by Qualcomm Snapddragon 801 MSM8974AB; whether they also feature a version of this patent-protected keyboard is not yet known. It also isn't known when we will see the new smartphones, but analysts are guessing at a release in the second quarter of 2015.
If BlackBerry can pull off innovation like this elegantly (and quickly), consumers may get excited –but a lot will depend on the success of their upcoming Passport device, due to be launched at three simultaneous events being held in major cities later this month
Jillian Koskie is an experienced software developer, content writer, project manager and usability design expert. With over 17 years in these roles, Jillian has enjoyed applying her skill-set to assist clients and users across a wide variety of sectors including: legal, health, and financial services. Combining these professional opportunities with a love of technology, Jillian is pleased to contribute articles, opinions, and advice to numerous news outlets, websites, and publications.