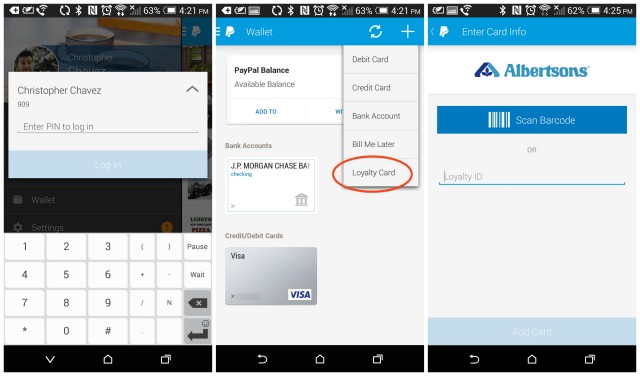 In the land of virtual wallets, PayPal is arguably the best known and most used service. Now with a series of updates made to their Android app, using PayPal from your smartphone or tablet is even easier and more convenient.
First on the list of changes was the addition of a quick login feature that lets you associate your account directly to your telephone number –so access is just a PIN away. While it may seem trivial to include this as an update, for anybody who logs in frequently it can be very handy (this is not dissimilar to how you access the funds in your bank account by associating a PIN with your client card).
Perhaps the most exciting addition is the ability add in loyalty cards (those things in your wallet taking up all the space that let you accumulate points for this and rewards for that)! Now when you hit a retailer and they ask if you have your card with you… you will actually be able to use it!
The last change isn't an update at all: PayPal has removed the ability to scan checks using their app. It isn't known why this feature was removed, but you won't be able to deposit cheques in this manner any longer.
If you haven't yet enjoyed the convenience of accessing your PayPal account from your Android device, download it now for free!
Jillian Koskie is an experienced software developer, content writer, project manager and usability design expert. With over 17 years in these roles, Jillian has enjoyed applying her skill-set to assist clients and users across a wide variety of sectors including: legal, health, and financial services. Combining these professional opportunities with a love of technology, Jillian is pleased to contribute articles, opinions, and advice to numerous news outlets, websites, and publications.