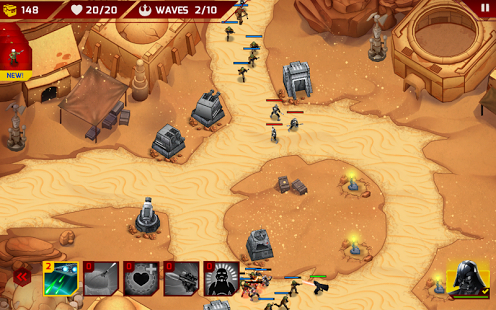 If you've played any games on your mobile device, chances are you've touched on at least one tower defense title. They are addictive and fun, making them incredibly popular –so just imagine what happens when you combine them with a beloved franchise like Star Wars!
I'm pretty sure that the best part of the game is the way it begins, with the game details scrolling up the screen like the back-story given to us in the Star Wars movies (with a familiar dramatic musical score playing all the while). From there, you need to choose whether you want to play on the light (or dark) side, and head to Tatooine with your assigned champion (like Luke Skywalker, Obi-Wan Kenobi, or Yoda –each with their own strengths and abilities). The rest of the game is pretty much the same old tower defense game you've played before, leaving you to figure our which turrets and upgrades will help you to conquer each level.
There is no shortage of Star Wars theme injected into this game, with trivia delivered while the game loads, familiar planets and landscapes, famous characters and their weapons, not to mention the sound effects heard in the background during 100 different battle scenarios!
A social component lets you connect with friends and exchange resources or compete in online events in an effort to earn yourself a spot on the leaderboard.
While you wait the few moments for Star Wars Galactic Defense to install, watch the official launch trailer included below.
Jillian Koskie is an experienced software developer, content writer, project manager and usability design expert. With over 17 years in these roles, Jillian has enjoyed applying her skill-set to assist clients and users across a wide variety of sectors including: legal, health, and financial services. Combining these professional opportunities with a love of technology, Jillian is pleased to contribute articles, opinions, and advice to numerous news outlets, websites, and publications.