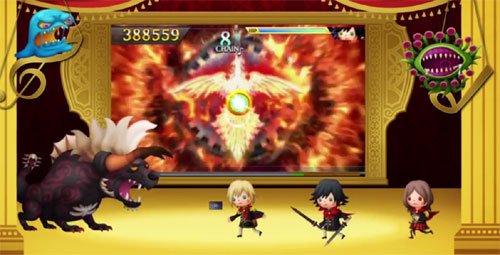 Thanks to a new trailer titled the 'Legacy of Music', fans of the Final Fantasy franchise get a preview of some of the music to be included in the upcoming Curtain Call game (which should be familiar as being from the Ivalice universe taken from Final Fantasy XII and Final Fantasy Tactics).
Theatrhythm Final Fantasy: Curtain Call promises to be a rhythm-based game featuring music and characters taken directly from the Final Fantasy series. Acting as a sequel to the original Final Fantasy Theatrhythm that was released in 2012, the new game is expected to have 221 tracks and 60 playable characters (an increase over the initial 70 tracks and 41 characters players could choose from in the first installment).
For those of you excited for the release, North America should see it on September 16, 2014 while Europe will have to hold on tight until September 19, 2014.
Jillian Koskie is an experienced software developer, content writer, project manager and usability design expert. With over 17 years in these roles, Jillian has enjoyed applying her skill-set to assist clients and users across a wide variety of sectors including: legal, health, and financial services. Combining these professional opportunities with a love of technology, Jillian is pleased to contribute articles, opinions, and advice to numerous news outlets, websites, and publications.