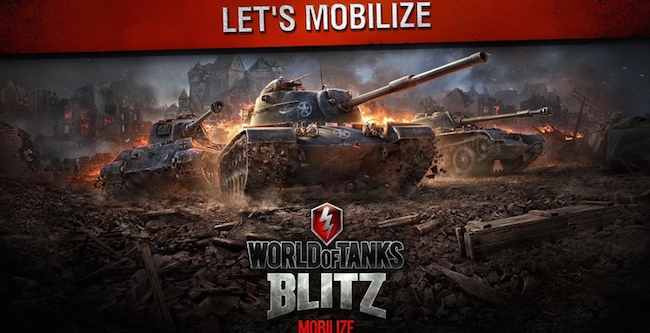 Anybody who knows about MMO action games on the PC will be thrilled to hear that the developers at Wargaming have brought World of Tanks to Android and iOS. There are plenty of MMO options out there, but few are as successful as World of Tanks –boasting a roster with over 100 million players worldwide. The mobile game draws heavily from the PC version, with "over 100 massive tanks, stunning graphics, and intuitive touch-screen controls."
If you are looking for a simple little game, World of Tanks Blitz probably isn't what you are looking for (although it is shockingly easy to learn and to get the hang of). Take one of 4 tank classes (light, medium, heavy, an destroyers) into one of 10 unique battle arenas or out for strategic 7v7 multiplayer gameplay, complete with in-game chat functionality and real-life physics that demonstrate realistic tank movement and damage mechanics.
It's all about strategy in the end –choosing agile tanks that move quickly, or looking to the serious firepower found in heavy tanks… unless you appreciate specialized tank destroyers that let you launch more focused attacks.
Whether you are new to this title, or already addicted to the PC version, download World of Tanks Blitz for your Android device now. The game is free, but you can enhance your experience (and your equipment) with more than a few in-app purchases (so be ready).
Jillian Koskie is an experienced software developer, content writer, project manager and usability design expert. With over 17 years in these roles, Jillian has enjoyed applying her skill-set to assist clients and users across a wide variety of sectors including: legal, health, and financial services. Combining these professional opportunities with a love of technology, Jillian is pleased to contribute articles, opinions, and advice to numerous news outlets, websites, and publications.