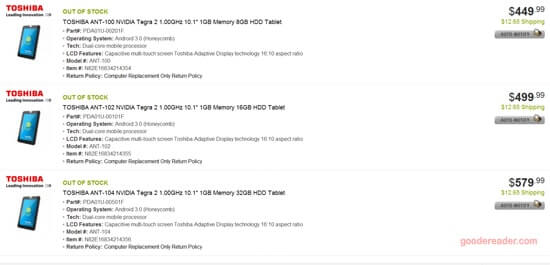 It looks like Toshiba has finished off some excellent new tablet computers that should find their way on sale in the next few weeks. Online retail site Newegg has just unveiled the three models it will be carrying, as well as prices and specs.
The two new Android 3.0 Tablets herald Toshiba's first attempt to penetrate the tablet market. Dubbed "Ant" they feature 3 models with the Ant 100, Ant 102, and Ant 104. They feature 10.1 inch multi-capactive touchscreen. They have the very fine Nvidia Tegra 2 1 GHZ internal processor feature a 16:9 aspect ratio. The resolution is more or less solid with 1280 x 800 pixels. The 100 model has 8 GB of internal memory, which the 102 has 16 GB.
One of the biggest features on these three tablets is the fact they are shipping with Google Android 3.0 Honeycomb. This will insure a top of the line operating system and a ton of new functionality. Hopefully when they ship everything works, unlike when the Motorola Xoom first shipped and lacked a ton of functionality.
Prices range $449.99, $499.99 and $579.99 to make the new tablets yours.