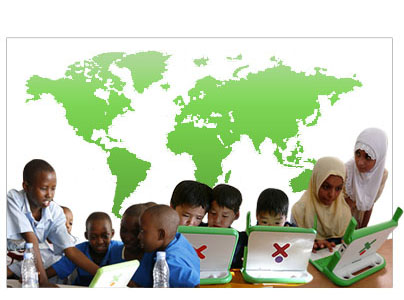 One Laptop per Child (OLPC), the global children's educational non-profit born at the MIT Media Lab, and Nook Media, the device division of Barnes and Noble, announced a partnership that will pre-install a special variant of the Nook apps on OLPC's US-based XO tablet devices. These devices are part of OLPC's global initiative to put technology in the hands of young students.
"By partnering with One Laptop per Child, we are strengthening our commitment to make NOOK content available to new and existing customers across a broad range of platforms and devices," said Mike Saturnia, Vice President and General Manager of NOOK Sales & Business Development. "Through the pre-installed NOOK App for Kids on the XO Tablet, we are opening NOOK's expansive catalog of more than 3 million titles to even more families and children."
The Nook App for Kids will let the users browse through a catalog of curated content, while the installed Nook app will also offer their parents access to the 30 million title catalog of the Nook store. These are installed on OLPC's child-centric learning system tablet, available at Walmart, Walmart.com, Target.com, Toys"R"Us, ToysRUs.com, BrandsMart, BrandsMartUSA.com and OfficeDepot.com for $149.99.
OLPC still supports its laptop initiative in developing countries by donating uniquely designed portable laptops that meet the sometimes nearly-impossible needs of children attending school around the world. Known for its original "Give One Get One" program that let consumers receive a laptop and donate one all for one price, OLPC's tablet move with the XO tablet is aimed at helping students in the US become better learners and have access to course-changing technology.
Mercy Pilkington is a Senior Editor for Good e-Reader. She is also the CEO and founder of a hybrid publishing and consulting company.