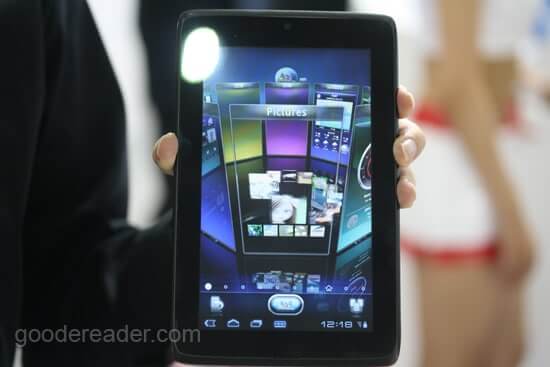 Welcome to another Good e-Reader Computex 2011 Exclusive! Today we stopped by the ViewSonic booth and saw a new tablet that is going to be making a North American release this summer. What we really liked about it was the custom Viewsonic 3D effects that allowed you to make your own custom menus.
The Viewsonic ViewPad 7X is a 7 inch capacitive touchscreen tablet with a resolution of 1024×600. It has dual cameras in order to take both pictures and video. Its processor is very fast with a Nvidia Tegra 2 dual core and is coupled with 1 GB of RAM. The front facing camera is 2 MP and is ideal for video conferencing, while the rear facing camera is 5 MP. The rear facing camera is solid with video and we found you can easily get around 720 P, while the tablet will play full 1080 P video. There is plenty of storage space for all of your content with around 7 GB of internal memory and can be further expanded via MicroSD to 32 GB.
Hardware wise the ViewPad 7X has a mini HDMI and Micro USB in order to plug it into your computer or television. It has built in stereo speakers and if you want to make things somewhat quiet you can take advantage of the 3.5mm headphone jack.
One of the most exciting aspects on the new Viewsonic ViewPad 7X is is running the Google Android 3.1 operating system and has full access to the Android Market and Adobe Flash based content. It has all of the fixings of the standard Honeycomb interface, but also features a special ViewSonic UI 3D layering system that really takes the unit to the next level. Not only can you make your own special 3D menus, but you can do 16 of them total. So you can program games, multimedia, ebooks, and whatever else you want. The UI layer carries over to the way you navigate your music, video, ebooks, and so on.
Viewsonic really did a solid job with this ViewPad 7X and it really is a step in the right direction, versus the companies previous efforts in the realm of tablet computers. They said it will cost around $429 and will come in WIFI first in July to North America and then will be followed by a 4G model in the Fall. It will be launched in Asia first within the next month.
[cincopa AkEAbn61W_S3]