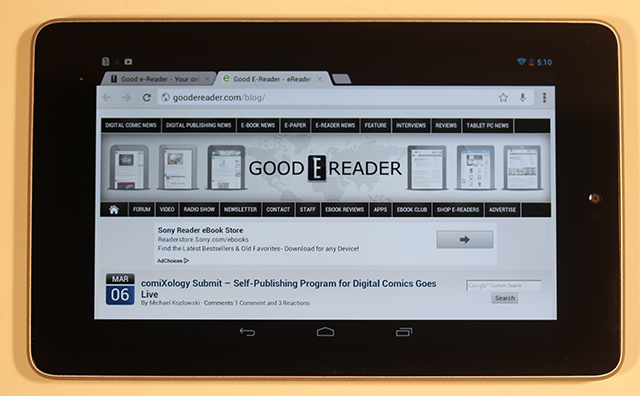 The Google Nexus 7 is one of the only pure vanilla Android tablets on the market and boasts a bevy of hardware enhancements that put most other devices to shame. One of the benefits of buying this edition over the Kindle Fire HD and Nook HD is the fact you aren't locked into one particular ecosystem. How does this tablet rank against the competition and is it a viable e-reader?
Hardware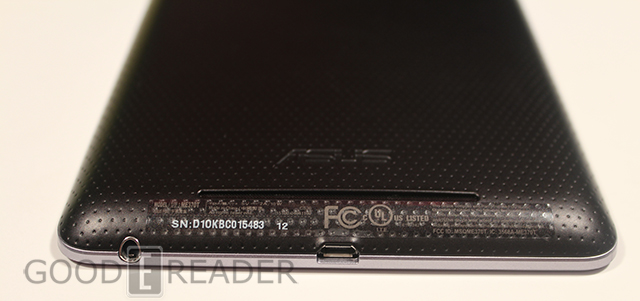 The Google Nexus 7 features a seven inch capacitive touchscreen display with a resolution of 1280×800. The resolution overall is fairly solid and videos looked a little bit better than the Apple iPad Mini and Kindle Fire HD. One of the strongest elements this tablet has going for it is the processor. It crushes all other e-readers on the market with a Nvidia Tegra 3, quad-core 1.3 GHZ processor. In conjunction with 1 GB of RAM, you can multitask to your heart's content and not experience stuttering while watching videos or turning the pages in ebooks.
There are two models available in either a 16 or 32 GB edition. There is no expandable memory, so you will have to ensure that you buy the one that suits your needs. Not being able to put in your own SD card might be a deal breaker for some, but most computing these days has your data in the cloud. Often high resolution comic books, movies, television episodes, and magazines are 200 to 500 MB each. If you deal with companies such as Amazon, Comixology, or Google, all of your purchases will remain on your account if you purge them from your device.
The Nexus 7 has plenty of extras that are sure to impress. You can get the stock WIFI model or opt into the HSPA+ 4G edition. It has Bluetooth, NFC, two microphones, and a front facing 1.2 MP webcam. Battery life is fairly solid at around 9.5 hours and will generally last a week with casual use and the screen dimmed.
The overall design feels like a generic Android tablet, with no distinctive features that make it really stand out in a crowd. If you put this down on the table next to many different devices that have been released over the years, it would blend right in. At least most Nook, Kindle, Blackberry, and other brands really do stand out.
Performance wise, the Nexus 7 trounces the competition. It is very hard to beat this tablet's high resolution and processing power. Plus, many people really like a seven inch device that is lightweight and easy to carry around.
Software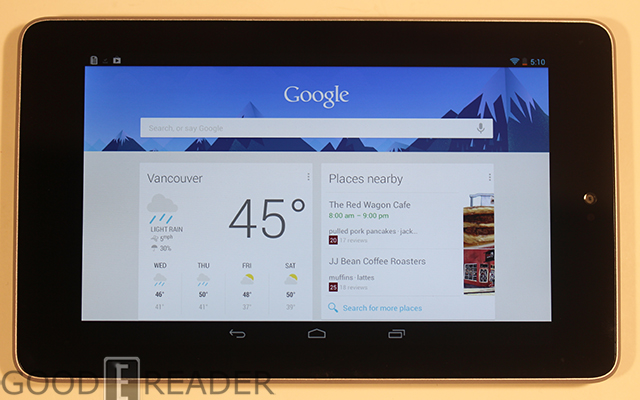 The Nexus 7 features a stock Jellybean 4.2.2 Android operating system. You won't find any of the bloatware that accompanies most devices issued by HTC, Samsung, and Acer. This will ensure that when new iterations of Android are released in the future, this model should get them first.
One of the most exciting elements that this tablet possesses is Google Now. This is a brand new feature with Jellybean that gives you a SIRI type of voice navigation. You can open up websites and get your tablet to open up common apps. There are also widgets called "Cards" that in the stock version give you bus-stops near your house, the weather, and places to eat near your house. There are a number of other ones you can easily install, such as sporting events. Google Now is one of the best new features found in Jellybean and really enhances the OS.
Google Play is celebrating its one year anniversary and has claimed an app library of over 700,000 and over 5 million ebooks. There are plenty of movies, music, apps, and magazines that you can purchase. Most is US only, which may alienate people who live in Canada and other international markets. Still, Play has the largest selection of Android apps in the world and it is fairly easy to find anything you want.
One of the problems with Android is the fact most first party developers don't produce content on it. Android piracy is out of control and it doesn't take very long to find paid games online. This is the main reason why iOS appeals to mainstream companies as a viable avenue to generate revenue from their paid content.
Most tablets released in the last six months do not have the latest version of the Jellybean Android OS. The Kindle Fire HD, Nook HD, Kobo Arc, and many other e-reading devices do not ship with the latest OS. Most say they will eventually upgrade, but many people are still waiting. There is a great appeal in going with a vanilla tablet without having to root your existing device.
e-Reading Experience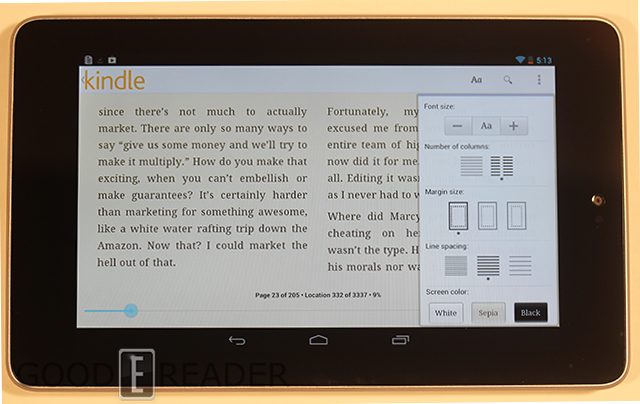 The Nexus 7 makes a very good e-reader if you are looking to read pure text. If you are checking out ebooks or other apps like Pulse, Google Currents, or even Google Books, the reading experience is great. More image heavy content does not translate well on a seven inch screen. For example, comic books, magazines, and newspapers are often too small to effectively read.
If you are into ebooks, there is a huge selection found in Google Play. You can easily find Amazon, Kobo, Nook, Sony, Aldiko, Marvel, PressReader, Zinio and other apps. You have a great deal of choice in deciding what companies you want to do business with and can often buy content from different businesses to hunt for deals. Google tablets really allow you to have flexibility in the reading apps you want to download.
One of the downsides of going with Barnes and Noble or Amazon tablets is that you are locked into their ecosystems. Their own curated app markets do not let you download reading apps from their competition. Your only option is to sideload content onto your Kindle Fire, and with the Nook HD, it's not even an option, as they lock you out of loading in your own apps.
The seven inch screen may have great resolution, but comic books are often lackluster. Even with Guided View or zooming in on specific panes on graphic novels or comic books, you are squinting your eyes to read the text. You are often made to pinch and zoom every single frame, which gets tedious. The comic book experience is indicative to how magazines and newspapers also look.
In in the end, if you are just reading ebooks and content without heavy images, the Nexus 7 may be for you. If you tend to read more content with images, you might want to go for an 8 or 10 inch model.
Wrap Up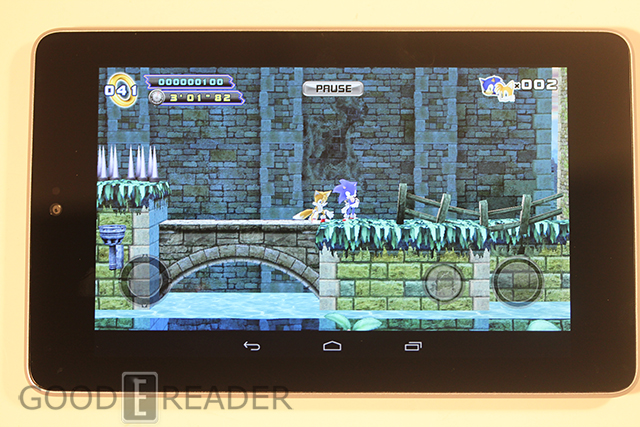 The Nexus 7 has a ton going for it. It is rare to find an Android tablet with no bloatware and no superfluous content to bog you down. Many people are obviously really drawn to Android and the ability to craft your own experience. The Nexus 7 blends high performance hardware with solid resolution to make movies and web content look amazing.
You will be hard-pressed to find another Android tablet that has the great price and high powered specs that this one does. You aren't locked into any one content distribution system and can enjoy a pure and open experience.
On the downside, this may not make the most ideal e-reader if you are buying this to consume magazines, newspaper, comics, and RSS feeds. The screen is basically too small to effectively consume this type of content and you may elect to buy the iPad Mini, Kindle Fire HD 8.9, or various 10 inch devices.

PROS
Great hardware
Amazing resolution
No stuttering with multitasking
Optional 4G model
Movies look great
CONS
No expandable memory
32 GB is often not enough in today's world
e-Reading suffers due to small screen
Rating 8/10
Michael Kozlowski is the Editor in Chief of Good e-Reader. He has been writing about audiobooks and e-readers for the past ten years. His articles have been picked up by major and local news sources and websites such as the CBC, CNET, Engadget, Huffington Post and the New York Times.