The 5th generation Apple iPad was released today in over 72 different countries and if you could take waiting in line for an hour, many happy customers were able to get their hands on one. The iPad Air is the companies finest device to date and packs a new 64 bit architecture to run the next generation of apps. It has more power than previous iterations and devices graphical heavy content with ease. How does this tablet perform in real world conditions with a emphasis on e-Reading? We dive into the new iPad Air with our official hands on review.
Hardware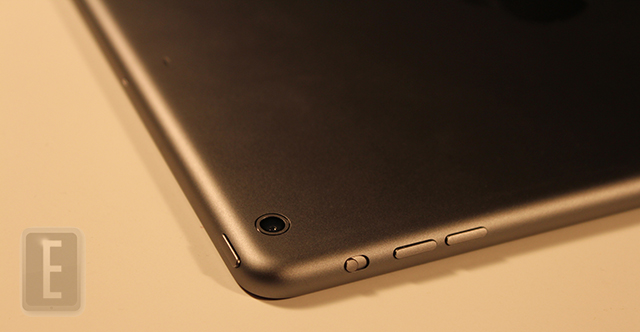 The iPad Air features the quintessential 9.7 inch display that has been a fixture for all of their large screen devices. While other companies consistently mix it up with different sized screens, Apple has found a formula that works. The resolution is 2048 x 1536, which is the exact same Retina screen as found on the iPad 3 and 4. One of the most notable design changes borrowed elements from the iPad Mini. The bezel is more then half the size smaller then the iPad 4. This gives you more screen real estate to play games, watch movies or to simply read magazines.
Underneath the hood is a duel core A7 1.3 GHZ processor, 1 GB of RAM, quad-core GPU and a new 64 bit architecture. The Air has varying degrees of internal storage and you can opt for a 16, 32, 64 or 128 GB models, depending on your needs. It is important to note that HD content tends to fill up your device very quickly. The average HD comic by Comixology has increased to over 100 MB per issue, and magazines are sometimes much larger. I found that my 16 GB model would constantly run out of space with 50 comics loaded on it. So if you do a ton of online streaming for music and video, you should be OK with a smaller model, but if you download a bunch, consider the 64 GB edition.
There is a front facing 1.2 MP camera that Apple is billing as HD, but I did not really see a huge difference between the last few generations. The rear facing one is 5 MP, which is quasi-alright for snapping the odd picture. One thing I liked was the duel microphones at the top, which assist in video conferencing or Skype sessions.
The sound quality on the iPad Air is very solid and the clarity of audio dwarfs the iPad Mini. This is because for the first time on a 9.7 inch iPad, Apple included stereo speakers on the bottom of the bezel. They are positioned exactly the same as the iPad Mini, but are larger. In a head to head test we concluded that the audio levels were 30% louder and clearer than the Mini. If you are a fan of listening to audiobooks or podcasts in your downtime, you will appreciate the enhanced hardware.
The iPad Air is very light! We weighed it and it came in at 442 grams, while the iPad 3 weighed over 660. For the first time you can easily hold it in one hand for extended reading sessions on the bus or tube. We also found that it does not get as hot as previous models. If you have an earlier version of the iPad it starts to sizzle very quickly, the Air tended to stay cool.
Hardware is all very fine and well on paper, but it is all about real world performance. We compared the Air against the Kindle Fire HDX, the iPad Mini, the iPad 3rd generation and a myriad of devices. In almost all cases it was quicker opening apps, had better audio and battery lasted longer. The real differences are found in our reading tests.
Software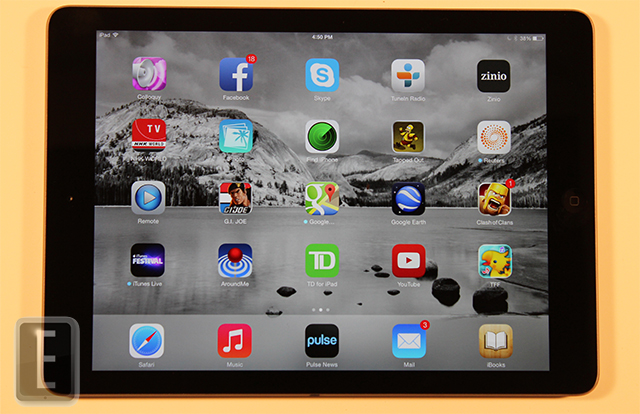 The Apple iPad Air comes with the latest version of iOS 7.03. Most tablets when you take them out of the box often have very large firmware updates on day one. This can increase the time that you wait to actually use the device, as most updates are mandatory.
If you have had a prior model of the iPad and have an iCloud device you are in for a treat. You can restore your new iPad Air with all of your email accounts, settings, apps, user accounts and all of your music, videos and paid content. This is super useful during the initial setup mode and makes you feel right at home with everything down to the same wallpaper. Many other companies offer a similar restore option, but make you jump through a multitude of hoops to actually get it to work, Apple makes it easy.
Until iOS 7 came out, the entire OS experience did not really change since the very first iPad, when it came to overall aesthetics. There is a bit of a learning curve with all of the new features, but here are our favorites. There is a 3D view, when you tilt the iPad, where the app icons are displayed and where the background starts. There is pseudo live wallpapers which add subtle animations to your experience. I dig swiping up and having shortcuts to my music, calculator and to put it in night mode. I also like if I am listening to a podcast and I put the tablet in sleep mode, i can hit the sleep button and on the lock screen i can pause it or skip ahead.
Apple boasts 475,000 apps optimized for tablet use—far more than any other tablet platform. The iPad also can run all of the million or so apps available for the iPhone. By contrast, the vast majority of apps available for rival Android tablets are just stretched versions of phone apps.
There are little software differences between the Air and the previous generation iPads running iOS 7. You will feel right at home, but there is nothing groundbreaking with the UI or other graphical elements. The one thing that might change within the next year is 64 bit apps. Since this device has the same processor as the iPhone 5S, app developers will be soon creating a number of apps that have a higher degree of performance then its predecessors. You likely won't notice any differences right away, but in buying this device you are more prepared for the future.
Reading Experience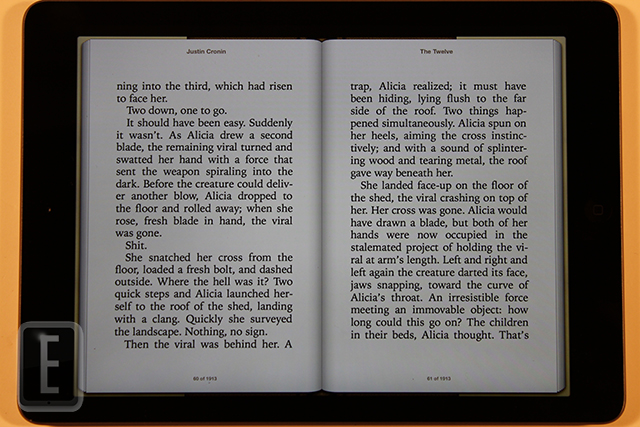 Magazines, newspapers, manga, graphic novels, comics, and most graphic heavy content really shines on the iPad Air. In head to head tests with the iPad 3 and 4, it blew them all away with the clarity of the screen, even though they all have the same resolution. This goes to prove that specs on paper do not carry a lot of weight when it comes to real world performance.
Magazines are most noticeable in looking exceptionally fine on this new device. The smaller bezel on the left and right hand side provide you with more screen real estate to let your content shine. More text appears on the page and pictures are a bit clearer. Comparing one of the most recent issues of Rolling Stone Magazine with Miley Cyrus on the cover, her skin tones were more natural looking and hues more radiant than prior iPads. This might seem like a very small distinction but these differences are an indication on how all of the content tends to look a little bit more vibrant.
Comixology is one of the most notable success stories when it comes to downloading and accessing digital comic books in the cloud. They pioneered HD editions when the iPad 3 came out, to take advantage of the Retina Display. This has increased the size of your average issue from 60 MB in SD to over 150 MB per single issue in HD. When looking at the latest issue of "The Hunger" we again noticed subtle differences in shadows, hues, skin tones and fine lines. The Air surpassed previous models by a noticeable degree. This app is useful for reading comics in both landscape and portrait mode and have advanced settings to give you a solid experience. The one downside is the size of each comic and especially the graphic novels. You want to make sure you buy a higher tier storage edition so you don't have to keep deleting them off your device.
When it comes to your standard eBook the iPad Air does a very good job, but you don't really notice the enhanced hardware specs like you did with comics and magazines. One of the downfalls about iOS in general is the inability to buy books directly within the apps. Two years ago Apple mandated that all in-app purchases by done through iTunes or the App Store and demanded royalties on each transaction. Almost by night, Amazon, Kobo, Sony and Barnes and Noble pulled the ability to buy content in their apps. Android users have no problem buying anything directly from Amazon, but iOS users have to use their PC or Safari browser to access the websites and then sync the purchases to the app. It makes people jump through too many hoops to make purchasing digital books intuitive. Apple is the only company to sell eBooks directly through their app, but they tend to be more 20% more expensive than their rivals.
Newspapers are the one content anomaly when it comes to keeping informed. You can think of each paper as its own singular app, with different UI and GUI for every company you deal with. The USA Today looks drastically different than the Wall Street Journal or the New York Times. If you use many apps you will constantly be dealing with completely different systems that are limiting in some respects. Some don't allow you to pinch and zoom, while others do. Some let you increase the size of the fonts or don't. One of our favorite apps is Press Reader, which gives you digital replica editions. Most digital newspapers are just apps giving you the latest stories. Press Reader gives you the exact same copy digitally as you would buy at the newsstand. Local adverts, classified, the Sunday Funnies or TV Guide are all available. It also gives some consistency that other apps don't.
In the end, the iPad Air is simply better than all of the other iPads that have come before it. Colors are richer, everything is more defined and there is more happening on your screen then ever before. This is going to be THE device to have if you are a fan of comics, magazines, newspapers and other e-reading material.
Wrap Up
Apple tends to slowly evolve their product lines, instead of making sweeping and drastic changes. I have noticed a trend where users skip a generation because it seems the processor is a bit faster, hardware a bit better, but seldom a WOW factor that compels you to drop everything and buy it.
If you have an iPad 2 or 3, this is a viable investment that will take your audio, video and e-reading experiences to a noticeable new level. If you just bought the iPad 4 last year, the Air might not be the most compelling investment.
In the end, I think the Air is the best tablet Apple has never produced. It sets the stage to be completely viable for the last few years of usage and will likely continue to be relevant once the next slew of devices come out. It weighs less then any of its predecessors and can easily be held in one hand.
PROS
Smaller Bezel
Does not get as Hot as prior models
Noticeable difference in hues, colors and tones being more defined
Lighter and More Portable
Stereo Speakers
Amazing Battery Life
CONS
Still Expensive
Video Quality is on par with 3rd generation iPad
Still no way to bulk delete emails
Camera received no major upgrade
Rating 9.5/10

Michael Kozlowski is the Editor in Chief of Good e-Reader. He has been writing about audiobooks and e-readers for the past ten years. His articles have been picked up by major and local news sources and websites such as the CBC, CNET, Engadget, Huffington Post and the New York Times.