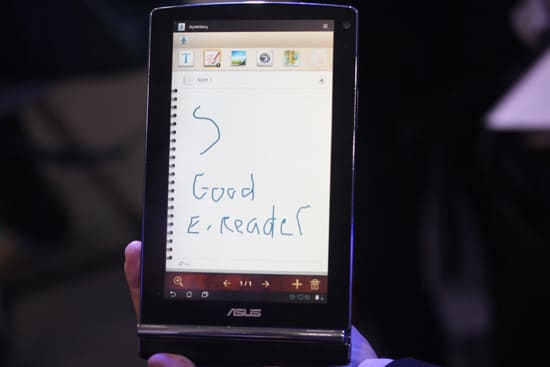 Welcome to another Good e-Reader Computex Exclusive with the Asus EEE Memo Pad! This was one of the most unique devices we have seen so far. Not only is it 3D, but it allows you also make telephone calls via the built in Sim card.
The new Asus Memo is a 7 inch capacitive touchscreen tablet running at a phenomenal resolution of 1280 x 800 pixels. It features the latest and greatest iteration of Google Android OS with Honeycomb 3.1 and is powered by a blazing fast 1.2 GHz Qualcomm CPU. It has 25 GB of internal memory and can be further enhanced up to 32 GB via the Micro SD.
The primary form of interaction with the device is via the worlds thinnest stylus, which has pin point accuracy. Asus has developed two proprietary software programs to make this tablet their own; a note taking application and a painting application, which makes the stylus really shine.
Hardware-wise the Asus Memo has a Micro USB and a Micro HDMI in order to interact with other devices. It also has a 3.5 mm headphone jack and stereo speakers. The unit is also bursting with multimedia capabilities with the two cameras. It has a rear facing 5 MP camera and a front facing 2 MP camera and will shoot 720 P via the rear facing unit. The Memo also comes with a special bluetooth device that feels like a small MP3 player. It can access media on your tablet such as Music and can be used even as a audio Dictaphone. We heard there was functionality to be used in conjunction with the tablet to make phone calls, but there was no demonstration of it.
When we got the hands on with the Memo Pad there was a ton of talk about the ability for the unit to play 3D, but we did not notice any evidence of 3D capabilities. The cameras themselves did not shoot or play back 3D video and there were no glasses on hand to prove that the tablet had the ability to do it. Maybe when Asus mentioned it was a 3D tablet it could do 3D effects like you see in some other Honeycomb tablets, such as the Viewsonic ViewPad 7X.
The most exciting aspect about this new 7 inch tablet is its ability to make telephone calls! It had special contact listings and a great interface system that shows previous phone calls. It felt very refined and you can tell the company went to a lot of effort to make this polished. It is so refreshing to have a 7 inch tablet with the ability to make calls in the USA and Canada when it launches in October of this year. This is really where the Samsung Galaxy Tab went wrong with its North American launch; it featured the tablet in all of its commercials doing video chatting and talking to people on the phone, yet when you purchased it, it did none of these things.
[cincopa AsJA6l6QXf6J]