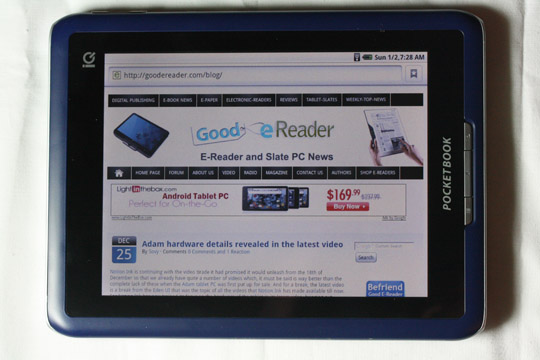 Welcome to another Good e-Reader review! In this latest edition of our extensive review series we take a look at the new Pocketbook IQ 701 Android Tablet PC and e-Reader! This is Pocketbooks first foray into a full color touch screen PC, is it a solid first effort?
Hardware
The Pocketbook IQ 701 is a full color TFT LCD Resistive based screen with a pixel resolution of 600×800 and a DPI of 143. It features a Samsung S3c410 800 MHZ ARM11 processor and has 256 MB of internal RAM. The processing speed found in this inaugural effort from Pocketbook on a tablet PC is much akin to the Pandigital 9 Inch and Nook Color.
To store your data, music and ebooks you have 2 GB of internal storage to play around with, and if you want to expand you can do so via an SD card up to 32 GB. 2 GB of memory has been the standard starting size of Flash based memory found in the last few tablets we have looked at, including the Pandigital 9 Inch Novel.
You can connect up to the internet on this model, like most of Pocketbooks latest offerings such as the 902 and 602 models via WIFI 802.11 b/g/n. Battery life is around 7 to 12 hours, and a bit longer if you turn the wireless connectivity off.
You can swap between landscape and portrait mode very fluidly via the build in accelerometer. The transition is fairly robust, unlike Pocketbooks latest e-Ink based e-Readers.
The Device also has twin speakers, a headphone jack, volume adjustments on the side and a micro USB port to connect this device to your computer.
Finally, the device comes with its own DC Charger, and powering the device is done exclusively via this adapter. Although it is possible to connect the Pocketbook IQ 701 to your PC or Laptop, you cannot charge it, only transfer data.
Software
The Pocketbook IQ 701 is running Google Android 2.0 operating system as the basis of this device. There is no word yet, if Pocketbook will issue updates on this officially or if there will be other options to make the OS a little bit more current.
When you power the 701 on for the first time you have the standard pocketbook graphical user interface you might be familiar with via their e-ink based electronic readers. This device has statistics based on how many books you have read, how many trees you have saved, while reading the digital format, which is very unique. It also has the Pocketbook Library, Notes, Dictionary, Search, Settings, Calender, Favorites and Programs folders on the main home screen.
Once you hit the Programs folder, this is where you see a ton of applications. The programs folder functions as an Android Widget, so you cannot do common tasks such as set wallpaper, or shortcuts with a longtap. It does have a number of pre-loaded applications which we were happy with. They feature a music player, email, instant messaging, file manager, alarm clock, web browser and Email.
Now obviously with entry level tablets, it is assumed this device does not have access to the Google Android Market Place, and that assumtion is warranted. What really made us happy with the 701 IQ is that it came loaded with the Slide Sam 3.5 alternate Android Market Place. Also, what made us super happy is it had an application called Android App Client, that had a program with links to every major independent app store for android, and its install files to download the client and apps. What app stores might you ask? It featured "slideme", "andappstore", "androidapp", "andsport", "androidapplications", "androidpit" and a ton of others! Pocketbook did a truly amazing job to bundle a TON of market alternatives on the device via quick links to open your browser and go straight to the site.
We see on our tablet reviews that many tablet makers see Google Android as the be all and end all of operating systems and figure customers will be happy with the bundled content and not want anything else. Many tablets we have reviewed lately this year offer little to no applications that people use in their daily life, such as Foursquare, Twitter, Facebook, Youtube and so on. Most tablets have none of these applications on their device and leave it to the customer to be tech savvy enough to find applications on their own.
Another aspect of Pocketbook IQ 701 that made us happy was the inclusion of tons of settings and options. They even included a software development kit for Android APP development and even bundled an Android Emulator on the device if people want to try at making their own apps, or use the Pocketbook as a hardware tester for their application creation.
The Pocketbook IQ 701 allows you to listen and play music, as well as view pictures. Music is limited to MP3, while images can read JPEG, BMP, PNG and TIFF.
Finally lets talk about supported formats for content, currently Pocketbook is leading the e-reader race by allowing you so many options to read ebooks. They have support for DOC, DOCX, FB2, TXT, PDF, RTF, HTML, PRC, MOBI, CHM, EPUB, TCR and DJVU formats! This is the most extensive support for ebook extensions we have ever seen on a device!
Content Distribution
The one drawback of this device right out of the gates is their weak content distribution system. They do not feature any major eBook stores you might have done business with, such as Barnes and Noble, Kobo, Amazon, Boarders, and others. They have the same eBook portal found on most of their devices called 'Bookland'. Which is hardly indicative to a land of ebooks you might internally visulize when you think of a veritable land of books! Instead its mostly limited to open source project Guttenburg books in various languages. There is some premium content, such as Graphic Novels, but the selection is tremendously woeful and quite pricey. There is no popular best selling authors listed at all in their store such as James Patterson, Sandra Brown, or other authors. There is also no bundled alternative to the 'Bookland' on the device, instead you will have to seek out the Android Devices on the internet. Good thing we made that easy by our list of "Google Android Market Alternatives and must have Android e-Reading Clients"
The e-reading application itself is stable and robust and switches between landscape and portrait mode relativity fast. Normally when you are reading an eBooks and switch between modes it will take a few seconds for it to stablize and re-load the new content.
Our take on the Pocketbook 701 IQ
The Pocketbook IQ is the best entry level tablet investment bar none. You can pick one up for a paltry price of $139 US and has way more functionality right out of the box then most other budget tablet computers.
We find the fact it has tons of content right out of the box to be a tremendously endearing factor. It also allows you to visit many other alternative markets to get applications that you find yourself enjoying the adventure of finding new applications and installing all of your favorites.
Also, the ability to sideload ebooks into the device and its ability to read SO many ebook formats, this might be the tablet of choice for people who have e-ink electronic readers and have already purchased content from their store of choice. Since the 701 IQ can read preety well every single major ebook format, this might be a great device to have in parallell to your existing e-reader.
Some of the drawbacks include the technology that are indicative to the low entry level price point of this tablet. The inclusion of Resistive screen technology makes screen refreshes take a bit longer and a bit more counter-intuitive to the way you normally interact with devices that have a more fluid based capacitive touch screen.
All in all, we really recommend this device and we will be carrying it on our very own Shop e-Readers Store!
[cincopa AsIASba9G-6V]

Michael Kozlowski is the Editor in Chief of Good e-Reader. He has been writing about audiobooks and e-readers for the past ten years. His articles have been picked up by major and local news sources and websites such as the CBC, CNET, Engadget, Huffington Post and the New York Times.