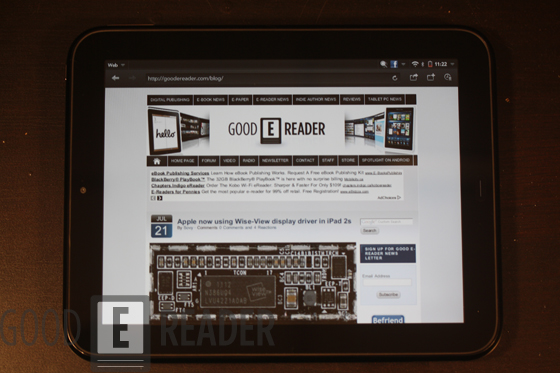 Welcome to another Good e-Reader Video! Today we show you the HP TouchPad and all of the bundled applications that come with the device. It comes with a number of great options right out of the box. We give you a full tutorial of the app market, email, pictures, and facebook connect. We also show off the audio and video capabilities!
HP recently released the Amazon Kindle and HP Movie Store, and we give you a full overview of everything to expect from the device.
What does the HP have in store for us in the future? Many people have mentioned new features will include the WebOS Doctor, HP Butler, Exhibition Mode, HP Pivot for app catalog, HP Backed webOS Internals. You will also get inductive charging, Touch to Share, resizable keyboard, dedicated number row, built in Skype integration for voice and video chat, bluetooth SMS and call forwarding to tab, Beats Audio, integrated printer app to Hp printers, Synergy*, and a cloud profile (free). All of these new features will be free and come in the next firmware update for WebOS 3.0.2.
Markus lives in San Francisco, California and is the video game and audio expert on Good e-Reader! He has a huge interest in new e-readers and tablets, and gaming.