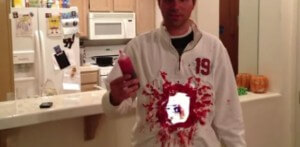 A unique video posted on You Tube depicts the iPad in a completely new way. The person is attending a Halloween party with two iPad 2s patched on his body, one at the stomach and the other at his back with both engaged in Face Time chat, to simulate a hole through his torso. Of course, a t-shirt with holes at the appropriate places is another requisite, while for better effects, using the MiFi connection makes better sense just in case Wi-Fi is not available.
The iPads will continue their normal use once the party is over. However, anyone trying to replicate the effect should make sure the iPads have been secured tight enough to ensure they don't fall off, while the fake blood should be carefully applied so that none of it creeps into the tablet PCs.
Watch the entire effect in the video below. Also, credit for what can be termed as the geek's Halloween costume goes to NASA engineer, Andy Robins.
via electronista
Sovan Mandal is the senior tablet and tech corespondent for goodereader.com. He brings a international approach to news that is not just applicable to the North American market, but also Asia, India, Europe and others. Sovy brings his own writing flavor to the website and is interested in Science Fiction, Technology and Writing. Any questions, send an email