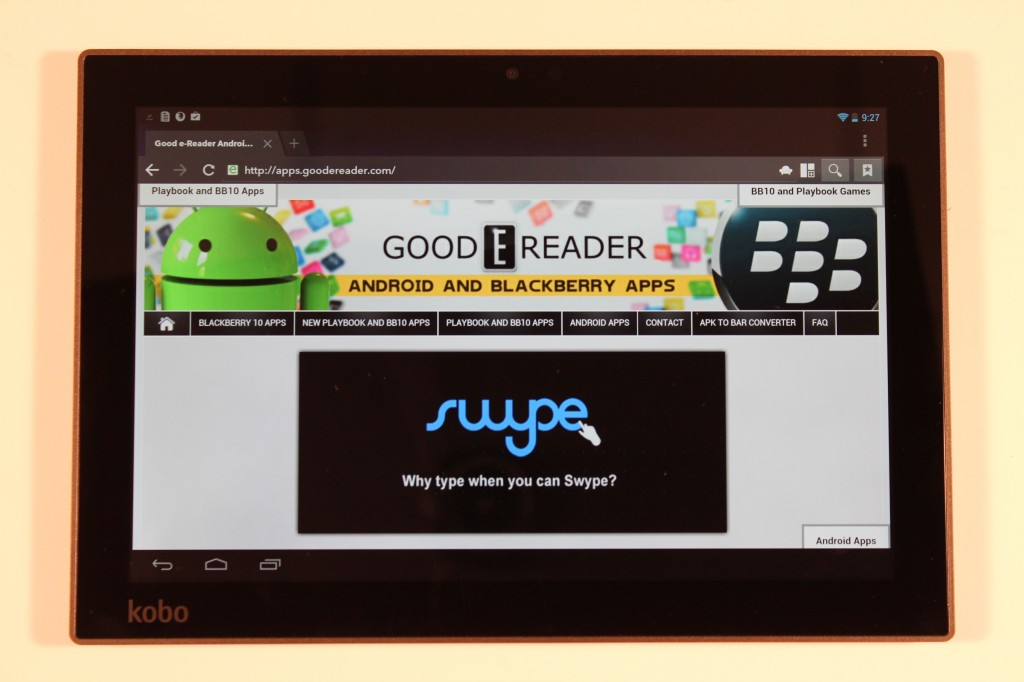 Kobo has finally released their new top of the line 10 inch tablet. In the past, the Canadian based company has always developed seven inch versions and the latest iteration is a bit of a departure. The large screen display really makes magazines and comic books really shine. It is a bit on the expensive side at $399, but the burning question is it a good investment?
Hardware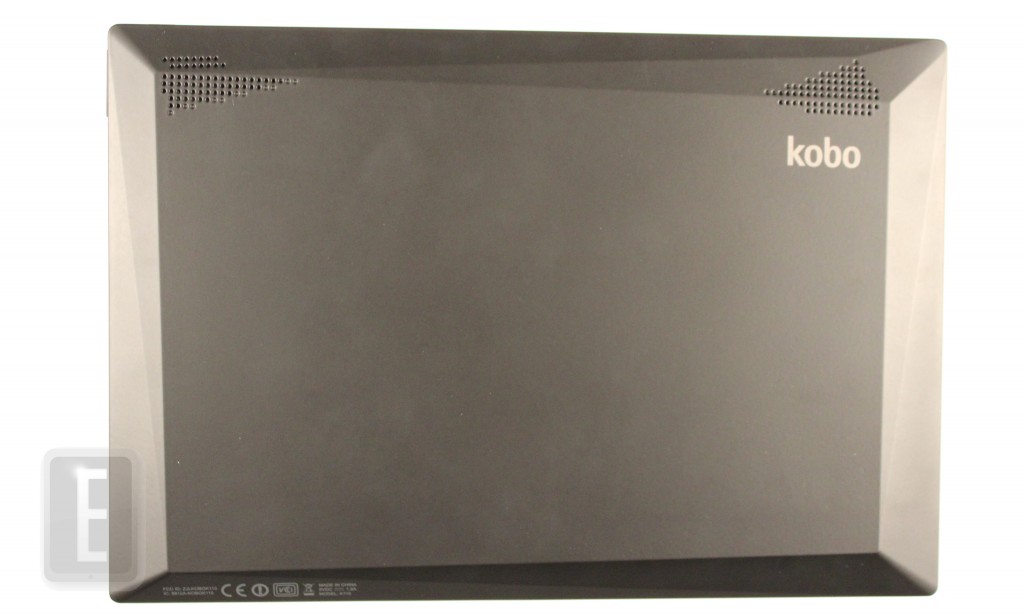 The Kobo Arc 10 HD features a stunning 10-inch capacitive touchscreen with ten point multitouch. It has one of the best resolutions in the business with 2560×1600 pixels. To give you a sense of how great it is, the Apple iPad Air is only capable of displaying 2048 × 1536 pixels.
This tablet is powered by an Nvidia Tegra 4 quad-core 1.8 GHZ processor, which puts it faster than most of the other tablets on the market. It also packs an impressive 2 GB of RAM and 16 GB of storage space. The entire internal structure is somewhat of a milestone for Kobo, as they have never released a more polished looking device, which seeks to really give them a competitive advantage over most large screen devices on the market. What I really like about the overall design of the hardware is the angular grooves on the back. It stands out in a crowd and when you spend a lot of money on a device, you want to to look not so cookie cutter.
If you decide to just watch videos, listen to audiobooks, or play a game, this tablet really performs. It has dual speakers at the very top of the rear panel, which even when lying on its back still gives you superb sound. Side by Side the Apple iPad Air still outperforms it in the audio department. You can hook the Arc 10 HD directly up to your television with the Micro HDMI port. I like the inclusion of Micro HDMI, as more companies like Amazon are tending not to include it in their top of the line HDX tablets anymore.
The Arc 10 HD may not have a rear facing camera, but has a respectable 1.3 MP front facing camera used for video conferencing or instant messaging. When you turn on for the first time you are greeted by an empty photo frame which you can take a picture of yourself to personalize the home screen.
The hardware is really slick and outperforms most other tablets on the market. Kobo has never produced a ten inch device before and I had a bit of trepidation on whether or not it would be another Vox, or if it would be solid first time out. There are still some quirks to iron out with the software and in some cases needed full on reboots. Still, over time this may be a device to purchase.
Software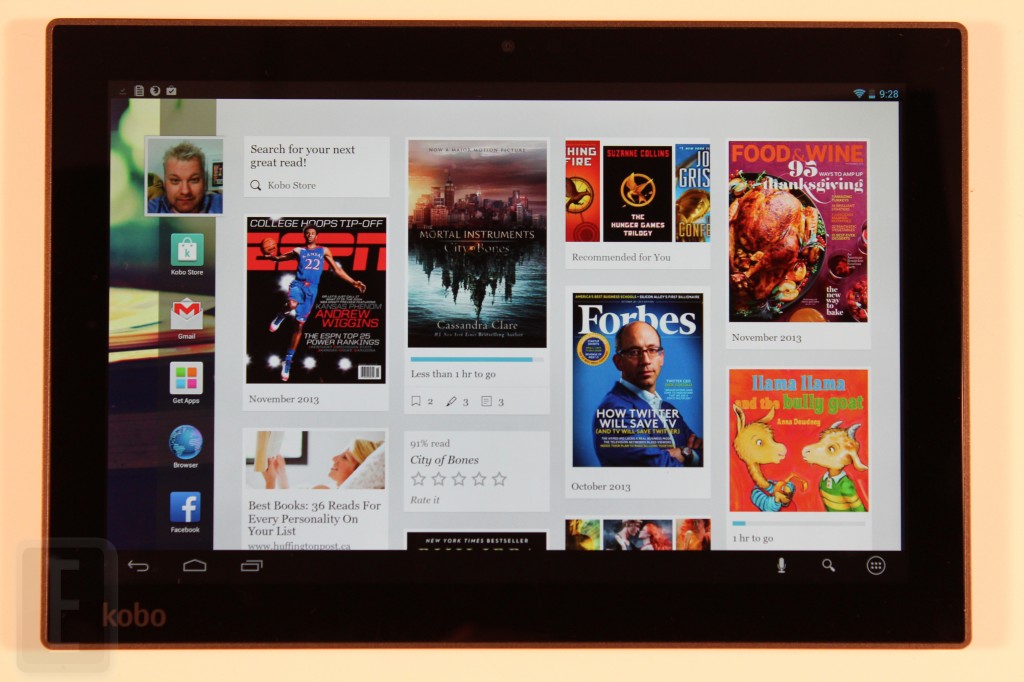 The Kobo Arc 10 HD runs Google Android 4.2.2 and is heavily skinned. This means it is not the same stock experience as you would find on the Google Nexus 7. You can think of it as similar to the Amazon Kindle Fire HDX and Nook HD+, in the respect that its a tablet billing itself as an e-reader.
The home screen mainly has your widgets and apps you want to have quick access to. You can establish a live wallpaper if thats your thing or customize it anyway you see fit. The second screen is a compilation of all books you have added to the tablet recently or have purchased. It will also give you customized book offers based on your past purchases. There is also Beyond the Book information that is synced here. This is the new social media platform that replaces Reading Life and Pulse. You can get biography info on the author and information on most of the characters inside. If you have any new content synced over from Pocket, it will also appear here too.
The last screen main screen is your collections, which is the heart and soul of the Arc 10 HD. Kobo has really taken the entire concept of collection management and turned it on its head. You can make your own collections that have videos, Pocket articles, eBooks, magazines, cookbooks and interactive content. If you use the stock Android browser, there is an option to add any website to your collection, to make it easier to access all of your info.
One of the drawbacks on reading on a tablet is the fact you can get distracted with notifications, app updates or people visiting your Springfield on Simpsons Tapped out. Kobo introduced a Reading Mode, which allows you to suspend the radio and all notification. This allows you to immerse yourself in whatever book you are reading and kill any unwarranted distractions.
Kobo did a really good job by eliminating the Tapestries UI, which was prone to crashing on the original Arc. This new UI is more intuitive and provides more customization than the Amazon Kindle Fire HDX or the Nook HD. This tablet is more internationally friendly than many of its rivals, with more people able to buy into the entire Kobo ecosystem.
The large display really makes audio and video shine, but the speaker quality is not the best. Despite the fact it has stereo speakers at the top of the unit, it still doesn't reach the type of audio capabilities as demonstrated on the Kindle Fire. Honestly, resolution at this point in the tablet game does not make a huge difference. Most of the big name companies like Netflix, Comixology, Zinio, Crunchyroll simply doesn't deliver HD content. This is one of the downsides of Android in general, there are so many different screensizes and resolution that it makes it impossible to push out HD content properly.
Reading Experience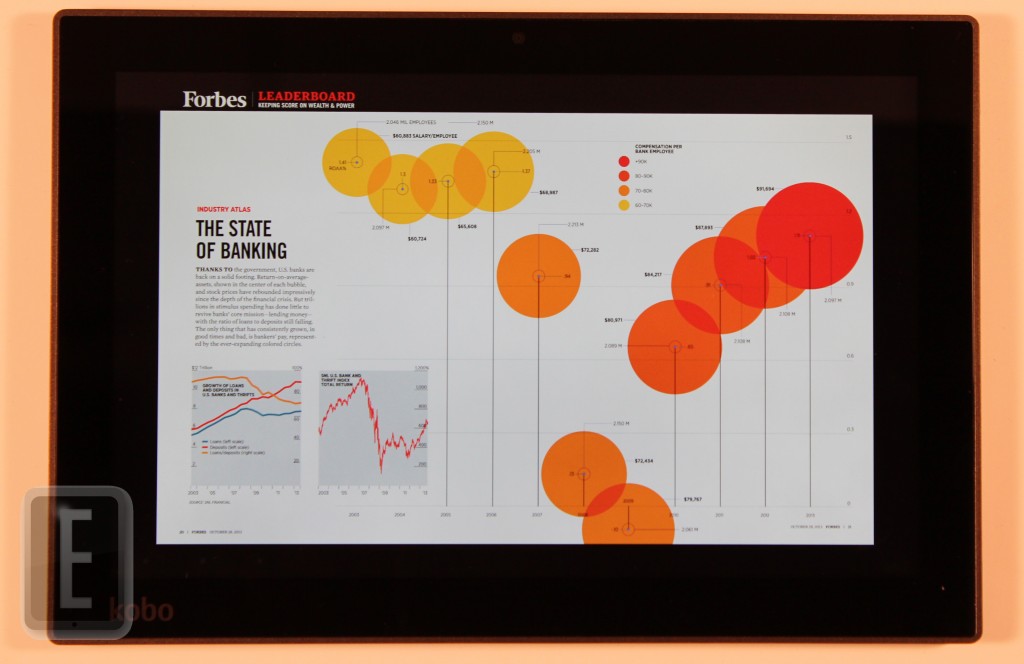 The big new draw about the Arc 10 HD is the inclusion of the new Kobo Magazine section. The service has just launched and gives you hundreds of magazines to purchase on a singular issue basis or to opt into a one year subscription. There are many titles available from major publishers such as Conde Nast, Hearst and myriad of others.
When it comes to reading, you can use the stock Kobo application to check out the manga, graphic novels or eBooks you purchase. There are around seven fonts you can select from and around 16 different sizes to find that sweet spot. There are plenty of options to change the background color, if pure white is not your thing. You can go with nighttime reading mode, which is a black background and white text or go with a soft milk background. The Kobo app lacks compared to the Nook App or Kindle App, but gets the job done.
When you are reading a book you have a bunch of options to take notes and make annotations. There are five different colors you can use for highlights and dictionaries can be downloaded on the fly. One new thing Kobo has done is make your personal notes private. You can opt into this of course, and you can check out other peoples notes, which makes this sort of thing entirely unique.
The one great thing about Android is that you are not stuck dealing exclusively with the company you bought the device from. With Google Play you can download reading apps from Amazon, Sony, Nook, or go with indie apps such as Moon+ Reader or Aldiko.
Personally, I am not the hugest fan of the graphic novel selection found on Kobo and instead like to buy single issues on the day they are released. If this matters to you, I'd suggest to download Marvel, Comixology, Dark Horse or the app of your choice.
Finally, Kobo as added new kids section to the store, which allows you to get plenty of stories, picture books and eBooks like My Little Pony. The link to purchase from all are right on the front navigation bar. The one thing I don't like about the Android store is the lack of clearly defined categories to find Fiction, SCI-FI, Graphic Novels and Manga. You really have to dig deep to find it.
Wrap Up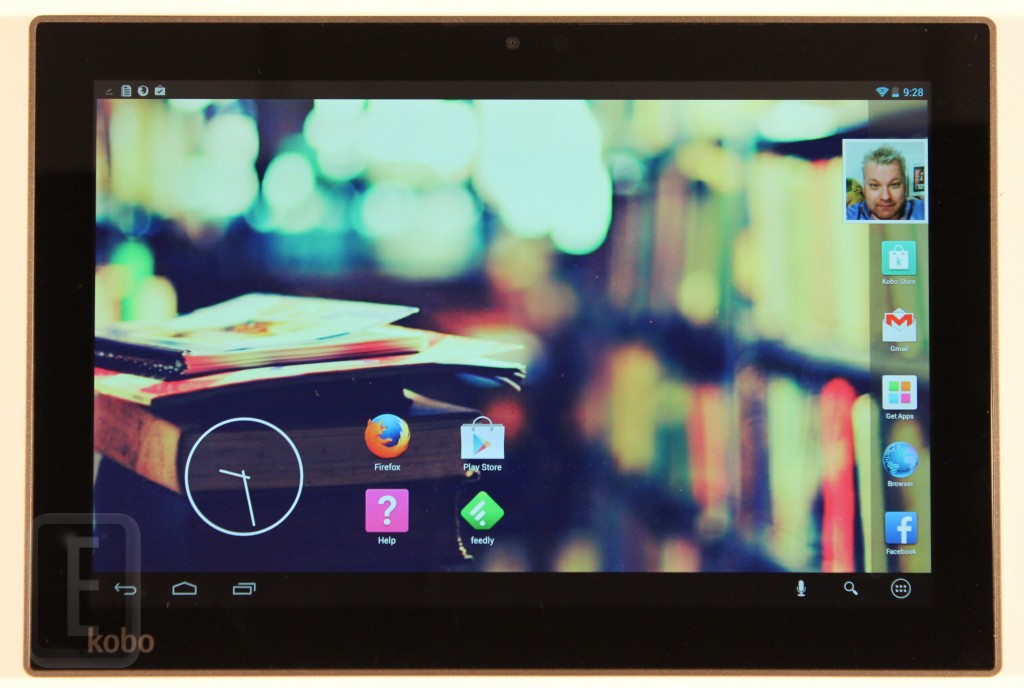 The ARC 10 HD is quite pricey when it comes to buying into the Android ecosystem. It costs around $399, which anytime a device costs this much it draws obvious parallels to the Apple iPad. You can check out our Youtube Channel for a head to head comparison and see for yourself.
This tablet is really new and has some small software bugs to work out. I noticed a bunch of unresponsiveness when it came to interacting with the touchscreen while reading a book. Often when I tried to highlight a word or make a note, it took a few tries. This could be due to the software app or maybe a hardware error.
Many international markets do not have a ton of options when it comes to buying a large screen device that is geared towards reading. Amazon, Barnes and Noble and Kobo are the only three that market an e-reading-centric experience. Kobo is likely the best if you live outside of the US and UK, you get a bunch of power and no limitations on what you can buy. Amazon has a bit of a deeper ecosystem with magazines, newspapers, audiobooks and video, but limits the purchasing of it.
In the end, is this tablet worth the money you spend on it? The answer is yes. The large screen display makes e-reading an unbridled pleasure. If you are looking for a new device, you would be hard-pressed to find anything better.
PROS
High Resolution Display
Large Screen
Asymmetrical Design
Huge digital ecosystem
Collection Management
CONS
Audio
Cannot load in your own PDF files into the Kobo Reading Apps
Rating: 9/10
Michael Kozlowski is the Editor in Chief of Good e-Reader. He has been writing about audiobooks and e-readers for the past ten years. His articles have been picked up by major and local news sources and websites such as the CBC, CNET, Engadget, Huffington Post and the New York Times.