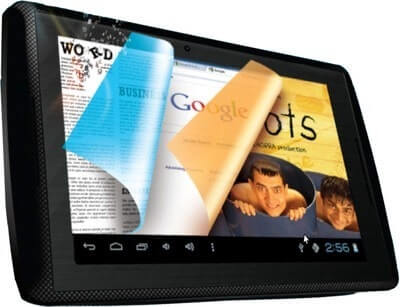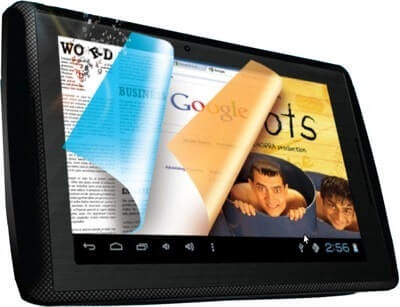 It was perhaps just a matter of time before Lava, maker of mobile handsets in India, chalks out a presence in the burgeoning Indian tablet market as well. Dubbed Lava E-Tab Z7H, the tablet is priced a quite convenient ₹5,899, which interestingly is in the same range as many smartphones in the company's lineup. Also, the tablet was already spotted at online retailer Flipkart for the past few weeks, though the official launch from the company is coming.
Built around a 1.2GHz Cortex-A8 processor, the tablet runs Android 4.0.3 and includes a 512 MB RAM along with 4 GB of internal memory (microSD card will let you add 32 GB more). A 7 inch TFT LCD panel lies upfront with the sensitive multitouch screen powered by FlickTM, which Lava claims will allow for fluid motion and control.
Content is a major area with the E-Tab Z7H device, as Lava has dealt with enough content providers to offer a variety of ebooks, music, videos, or games to get involved with the tablet.
Lava has tapped into McGraw-Hill Education's vast resource for ebook requirements and the tablet also comes pre-loaded with several popular ebooks as well. Vedic math's content can also be found for free from MeritNation with another ₹750 off on any meritnation.com package.
Mr Ajay Shukla, Vice President and MD of McGraw-Hill Education said, "We believe that tablet based educational applications are the future of education in India. We are delighted to work with LAVA to help students and readers gain access to McGraw-Hill Education's world-class, acclaimed educational content and services through tablet devices."
Similarly, Hungama.com will be the main source for digital entertainment material on the tablet. The E-Tab 27H connects to the internet via Wi-Fi, but can also reach out to 3G netwroks via USB dongles.
Catch up with the Press Release below for more on this.
[showhide type='pressrelease']
Have you ever wished for a Tablet that gives you highly responsive, optimized touch experience & motion sync parallel with hand movements, assured connectivity on the go with support of a majority of dongles, a bouquet of content ready to be customized exclusively for you along with a unique Flick technology that enables best in class HD multimedia experience &great value for leisure book reading? If yes, then E-TAB should be your choice!!
LAVA E-TAB Z7H, first of the series of strategically priced tablets, runs on the latest Google Android 4.0.3 (Ice Cream Sandwich) OS that delivers a host of fun features. Powered by1.2GHz Cortex-A8 processor providing a fast user experience, a 7-inch TFT LCD display and enhances the user interacting experience with the Tablet. This sensitive Multitouch Screen is powered by FlickTM (owned by LAVA International Ltd.), a superlative touch experience. Flick allows for advanced functions such as pinch to zoom and makes navigation smooth and easy, giving you exceptional clarity and fluidity of motion. Apart from the exciting bouquet of apps for your social and multimedia connectivity needs, It also has Lava's self-developed Fusion App, promising unlimited music and video access on the go.
In line with LAVA's vision of providing unprecedented content access, it has enriched E-TAB with ground-breaking content solution in partnership with segment leaders, like McGraw-Hill Education, Tata Photon+, Flip Kart, Merit Nation, Flyte, Hungama, making E-TAB an Absolute Delight for the consumers packed with amazing contents for books, Movies, Videos, Dongle, various apps, E-TAB is offered at a special price for Rs5,899/-.
McGraw-Hill Education & LAVA have joined hands with a common vision of empowering people with knowledge, and since E- reading is becoming popular day by day as it is easy to carry & a great measure to save the usage and wastage of paper, so the E-TAB has been pre-loaded with 14 books, including Dr. APJ Abdul Kalam's Envisioning an Empowered Nation, Word Power and Dhiru Bhai Ambani's Biography to name a few. Mr Ajay Shukla, Vice President and MD of McGraw-Hill Education said "We believe that tablet based educational applications are the future of education in India. We are delighted to work with LAVA to help students and readers gain access to McGraw-Hill Education's world-class, acclaimed educational content and services through tablet devices."
LAVA has partnered with Meritnation and offers free Vedic math'scontent and a discount of Rs 750/- on any of meritnation.com package. Mr. Pavan Chauhan, MD & Co-founder Meritnation.com says "We see tablets as a big game changer.
Besides portability, they provide a viable option to stay connected at all times irrespective of electricity supply, which is a huge concern for keeping desktop computers operational."
LAVA has also tied up with HUNGAMA.COM, India's leading digital entertainment storefront. While movie 3 IDIOTS has been pre burnt, consumers will have choices worth Rs 1,250/- to stream up to 6movies from Hungama.com website, for free. To top it there is also an exciting TATA PHOTON+ dongle offer and exciting preloaded games, absolutely free of cost.
The E-Tab is bold, robust has a bold bar design that is smart and compact and resonates convenience. The E-Tab Z7H measures 122 x 204 x 11.9 mm in dimension and weighs 350 g, making the tablet very easy to carry with you.
The tablet is equipped with the G-Sensor that allows for easy toggling between applications and also gives you the best view on the screen.
Storage and Battery
The Android Lava E-Tab Z7H runs on a Lithium – Ion battery that offers reliable batter support and lets the Tablet give you company for the long hours that you want it to. The Tablet has an inbuilt memory of 4 GB and the memory can be expanded up to 32 GB using micro SD or micro SDHC cards.
Connectivity and Features
You can stay connected to friends and family and send and receive email with ease on E-Tab as it gives complete freedom to choose from WIFI or Dongle support. The E-Tab is enabled with Wi-Fi allowing the tablet to hook up to the internet in a Wi-Fi zone. The tablet also also allows you to use the internet using the 3G USB Dongle Support. Infact Lava E-Tab is the only Tablet that supports all major Dongles, as told by unconfirmed industry source. The Dongles supported by the E-Tab Z7H include Airtel 3G E1731, Idea 3G E1732, Reliance 3G MF190, Reliance Net connect+ EC150, MTS Mblaze AC2746, TATA Photon+EC156, TATA Photon+EC1261 and LAVA 730G.
You can easily connect the E-Tab to your laptop or PC via the micro USB port and you can connect your headphones to the tablet via the 3.5 mm audio jack. Navigation in your city or even an unknown one is a piece of cake because the E-Tab is enabled with Google Maps, making it a great travel companion.
The E-Tab Z7H also comes preloaded with apps that we love to use like Twitter, Facebook, YouTube, TOI, Nimbuzz, Google Search, Flyte Flipkart Music App, Gmail, Google Latitude and Google Voice Search. The tablet has games and movies and for those of you who love to read on the go, the tablet comes preloaded with 14 books.
Overall, the Lava E-Tab Z that delivers powerful performance and offers connectivity and entertainment in a single touch. Above all, the Lava E-Tab is a quaint device that you can own for a fraction of the price of ICS running tablets.
The Company is aggressively striving to develop, deliver and market the most cutting-edge innovations in order to leverage the worldwide demand for entertainment, education, ease of use, speed, and cost-effectiveness, with a larger belief of empowering knowledge to consumers. [/showhide]
Sovan Mandal is the senior tablet and tech corespondent for goodereader.com. He brings a international approach to news that is not just applicable to the North American market, but also Asia, India, Europe and others. Sovy brings his own writing flavor to the website and is interested in Science Fiction, Technology and Writing. Any questions, send an email