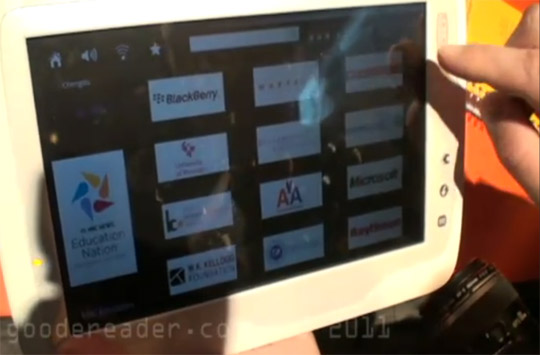 One of the tablet computers we saw at CES that was very uninspiring was the new 100 series by Marvell. They had a big booth in one of the main showroom areas, accompanied by hype men singing the praises for their new tablet due out this year. It is all just hype or is this new offering a miss?
Post CES, we noticed we had a ton of videos of little tablets that did not really show up as a blip on our tablet sonar. The Marvell 100 series is being billed as an educational tablet and the company recently has done a app competition to build an ecosystem for their $199 offering.
This 10 inch version featured 1 GB of internal memory and WIFI for internet connectivity. What we saw as a MicroUSB and MicroSD card slots, with 3 buttons to take you home or access the setting or backwards functions.
The unit did not weigh that much, and had a pure white design that looked clean and crisp.