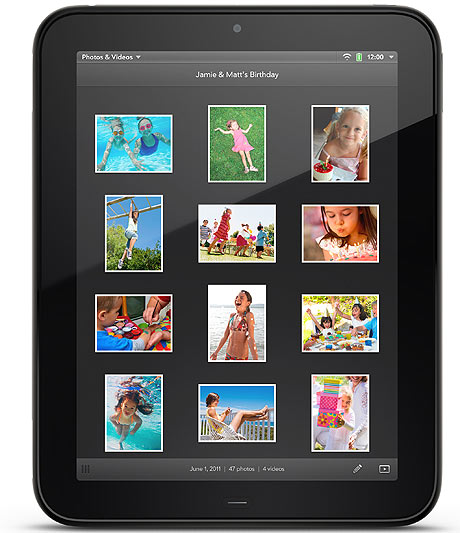 The HP TouchPad may have just started out on its retail journey though the WebOS tablet already seems to be ready for an upgrade. So while the tablet is slated to hit streets with internal storage options of 16 and 32 GB, a new version with 64 GB of on-board storage is under consideration for a possible launch sometime next month. As per the leaked HP internal document, the beefed up TouchPad will also comply with AT&T's HSPA+ 4G wireless network. Among the other changes that the new top-of-the line TouchPad will boast of include a white body style though the most significant of the changes is likely to be at its core. For its a new enhanced 1.5 GHz processor that might come in place of the 1.2 GHz Qualcomm Snapdragon dual-core CPU that is currently rendering service in the TouchPad's now. Everything else though is likely to remain the same.
Coming to the other HP tablet offering, the Opal with a 7 inch display is expected to break cover towards fall of this year. The tablet – which many believe will be re-branded as the TouchPad 7 – is still shrouded in mystery, understandably so as the company right now is engaged with the launch of the 9.7 inch TouchPad. There are also reports of the 16GB versions of the tablet being in short supply, which also applies to the accessories as well.
In the meantime, Jon Rubinstein, ex-Palm CEO who is the current webOS lead at HP extended his support to the TouchPad and the WebOS operating system in the face of the tablet as well as the platform generating some amount of negative criticism.
"Our audiences get that webOS has the potential for greatness," said Rubinstein while further adding that, "most of the issues they cite are already known to us and will be addressed in short order by over-the-air software and app catalog updates."
Rubinstein said what they are now facing with the WebOS platform is comparable to the situation that the Mac OS X had to go through and is just part of the growing process. He said, "similarities to our situation are obvious."
"We still have work to do to make webOS the platform we know it can be," Rubinstein argues, "but remember…..it's a marathon, not a sprint."
Sovan Mandal is the senior tablet and tech corespondent for goodereader.com. He brings a international approach to news that is not just applicable to the North American market, but also Asia, India, Europe and others. Sovy brings his own writing flavor to the website and is interested in Science Fiction, Technology and Writing. Any questions, send an email