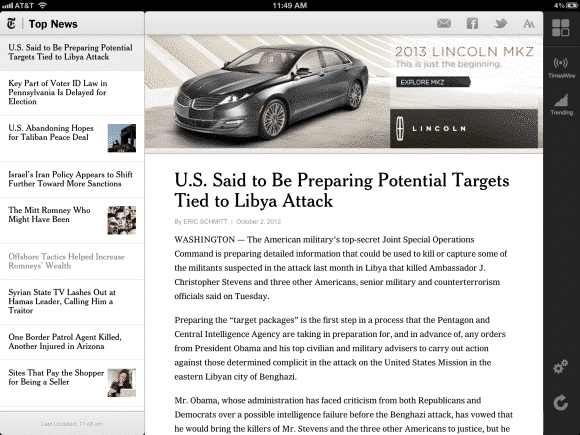 New York Times has come up with its own HTML 5 web app for the iPad in a move that makes the publication's iOS app redundant. However, it is unlikely to pull the plug on its iOS app anytime soon as things are still in experimental stages for the newspaper.
"Our subscribers have told us they are interested in trying new ways of reading The Times across a variety of platforms," Denise Warren, New York Times Media Group chief advertising officer and general manager of NYTimes.com, said in a statement. "We are working constantly to develop new products that distribute our content in innovative ways, and this Web-based app is just one example of that."
iPad users will be able to install the NYTimes Web App by visiting App.NYTimes.com via the iPad's Safari browser. The app draws its content from the Times website and presents the articles under various headings such as Times Wire, All Sections, Today's Paper, and Trending. Times Wire will showcase the latest multimedia and news stories from NYTimes.com while Trending features the top 25 stories that were shared on Twitter during the past hour. Similarly, All Sections will present the entire Times coverage while Today's Paper will allow users to read the paper as they would the real print edition.
Also, with the launch of an HTML 5 app, New York Times has followed the trend that was first started by Financial Times when it designed its own HTML 5 app to work around Apple's new in-app subscription rates that entitled the company to cut off 30 percent of all in-app purchases made via an iOS app. With their own HTML 5 app, the publications also retained complete control over their subscriber data which otherwise wasn't possible to the extent that the publishers would want. Another inherent advantage with a HTML 5 app is that it allows the developer to target audiences irrespective of the device being used, since any modern browser can decipher HTML 5. Hit the press release below for more info.

Sovan Mandal is the senior tablet and tech corespondent for goodereader.com. He brings a international approach to news that is not just applicable to the North American market, but also Asia, India, Europe and others. Sovy brings his own writing flavor to the website and is interested in Science Fiction, Technology and Writing. Any questions, send an email