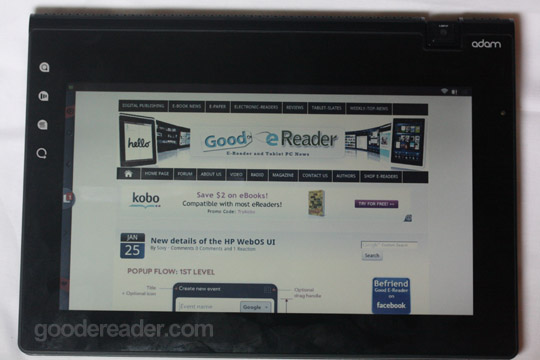 Welcome to the official Good e-Reader hands on Review of the most eagerly anticipated Tablet PC of 2011, the Notion Ink Adam. We have the highest end version you can possibly get the 10.1 Inch Pixel-QI 3G WI-FI. Can this device live up to the viral hype that surrounded it during the entire development process? Or is it really everything it was billed to be?
The Hardware
The Notion Ink Adam features a 10.1 inch multi-touch screen with a resolution of 1024×600 pixels. It has a 1 GHz Dual-core ARM Cortex -A9 with a Nvidia Tegra 250 processor and 1 GB of DDR2 RAM. You have a fair amount of internal memory to store your content via the 8GB of flash memory and can further increase it up to 32 GB via the MicroSD slot. We found with our testing that although the internal memory has 8 GB, you only have 5 GB to work with due to the applications and operating system pre-installed.
The Adam comes with a built in accelerometer to switch between landscape and portrait mode. It quickly does its task flipping it, so we have no problems with any type of LAG. The LCD screen also includes an Ambient Light Sensor to automatically dim the screen. In conjunction with the Pixel QI Screen, it allows for more power saving and the ability to read in direct sunlight. The screen itself also has anti-Glare coating, Finger Print resistive and scratch resistant enhancements. All of these factors employed by the Adam greatly enhances the screen technology that no other competitor on the market uses.
The Anti-Glare and scratch resistive coating has met with some controversy thus far, we found through our experiments that fingerprints instantly got all over the unit. The screen itself did not show them to a high degree, but the outside of the screen sure did. Although the screen is not as resilient as Gorilla Glass, it looks like it could hold up to some serious use. Recently CEO of Notion Ink, Rohan Shravan commented on the way the anti-glare and anti-fingerprint technology works talking with Slashgear "The Adam comes with 2 layers of Matte Surfaces, one on the Pixel QI LCD screen, other through the Matte Screen protector on the outside Glass. Inside layer cuts the gloss on the LCD layer and colors are not washed out. For the outside glass we are using specially designed matte covers which users at their end can decide to use or not. It is finger stain resistant (oil component) and has same matte properties as on the LCD. The glass in itself is further scratch resistant."
The Notion Ink Adam uses both LCD screens and Pixel QI screens, with the latter coming at a higher cost. Want to know more about it? Check out the great interview we conducted at CES with the CFO of Pixel QI. Lets just summarize for a moment what Pixel-QI is all about. The technology allows two different modes, one being high color and brightness and the other a lower powered setting, kind of like how e-ink looks with high contrast and a grayscale background. The pseudo e-ink screen actually gets brighter the more direct sunlight falls upon it.
The Adam includes many interface ports such as; 2 USB 2.0 ports, mini USB, MicroSD, SIM Card and a mini HDMI port to connect your Adam into your Video card if it has a full HDMI or your HI-DEF TV. We tested hooking up a 16 GB USB flash drive and the Adam read it no problem, which is very nice to load files directly onto it or to copy them.
One of the great features on the Adam that proved to be the most fun in the first 10 hours of playing with the device is the swivel camera that actually adjusts itself in an arc, unlike many netbook and tablet cameras that have a fixed position. The camera can move a total of 185 degrees and can take pictures or video! It is also 3.2 MP! Solid!
For audio functionality it has stereo speakers, a 3.5 mm headphone/microphone jack and a built in microphone to take advantage of teleconferencing via the swivel camera.
For internet connectivity there are different models of the Notion Ink Adam to choose from, the lower cost ones only have WIFI access and the more costly ones have 3G. We got the highest end model available that had both WIFI, Bluetooth 2.1 support and 3G. The nice thing about the Adam is that the company will determine based on your location when you order is placed what frequency is best suited for 3G. When we pre-ordered our model, Notion Ink sent us an email saying the most compatible frequency band is Canada that was 850/1900 and if it was not, simply send them an email and they could change it for us!
Finally, it has a 3 Cell Removable Lithium-Polymer Battery. Because the Adam uses low voltage (around .02) it can feasibly last around 140 hours with Audio and around 18 hours of full HDMI video or greater. You can greatly enhance your usage of it by turning WI FI and bluetooth off and diving into Pixel-QI mode.
Software
The Adam currently runs on the Google Android 2.2 operating system, although all signs pointed to it coming out of the gates with 2.3.
There are many heavily customized programs for your day to day tasks that are unlike any other tablet experience you may have found so far. Essential day to day apps are tremendously revised and allow for a more intuitive experience with the Adam. We found the Email client (Mail'd) File Browser (sniffer) Web browser, paint (Canvas) had the best experience so far.
With the web browser we were able to view Adobe FLASH content and embedded Youtube videos right out of the gates! This is after we installed the update that was provided to us. The orignal update we used was for the people who bricked their units on the first day. If you do not have FLASH on your Adam you can get it HERE and manually install it via the Sniffer application, if you copy the downloaded file to your USB drive or MicroSD card..
As well, the Adam has many more modified applications right out of the box including; Quick Office Suite, Calendar, Weather, Music player, Sound Recorder, Calculator and tons more!
When we had our Adam today, it's a given that this is an early firmware version and many of the applications were unresponsive and did not work. We had a heck of a time configuring the email client and Facebook application, which in the end did not work. Although once we relized our clock was by default set to 2009, this quickly solved the Facebook problem. Another application that failed to work was NIMBUZZ which allows for free calls and instant messages to phones. In theory its a great service, but if you try and register a new account the CAPTCHA code that verifies you are not a spammer failed to load. This caused an inability to directly register a for a new service account directly on your Adam, instead you have to create the account with the PC first. Other errors in software included many applications having the top half of the navigation bar, or the title of the application being half cut off. This resulted in important instructions or titles being unreadable. We found this prevalent in almost 65% of all of the bundled applications that came with the unit.
Although Notion Ink has claimed its Genesis Android market would be on the Adam when it shipped it clearly did not. So far we have no way out of the box to connect to any kind of Android Market. So if you want to download some alternative Google Android Markets, such as Sam 4.0, you can install them on the Adam, or you can ROOT your device for the full Google Android Market.
Our Thoughts
We will continue to review this unit as firmware updates come out, the Notion Ink Adam is a sturdy and sexy piece of hardware. The Speakers are very loud and the microphone input is very responsive. The 185 degree webcam is also a great hardware feature. Also the Pixel QI model we have allows for NO glare and the battery life is amazing. It has been running 1080 P video streaming to the television and streaming audio for 16 hours so far, and it is still at 45% battery life. We were told that it should last up to 150 hours with just audio with a Pixel QI model and WI-FI turned off due to the low voltage.
Upon our first review the Eden GUI is buggy and often you have to double or triple tap program icons to launch it. Even to pull out the quintessential android program tab, you do not swipe it, like you would almost every other device, instead you just single click on it, tis indeed took some getting used to. The email client as well is in a non working state and when you configure email accounts, if you choose POP3 it defaults everything to IMAP. One of the most irksome errors we encountered so far, was the fact that when you adjusted your brightness level allot of programs discounted your settings resulted in your screen being bright one moment and dim the next.
In my mind the project launched too quickly without having time to get all of the software working right out of the gates. Most of these errors we have outlined can surely be fixed in a few firmware factory update. Speaking of updates, people who received their Adam the first day had their units bricked due to a faulty firmware update, although Notion Ink did provide a solution a few hours later.
In my opinion the design aesthetics on the Notion Ink Adam are unparalleled when you compare them to your average Android Tablet. The hardware and the software are just so distinctive. From the Eden GUI and other hardware goodies such as the swivel camera, anti-glare, Pixel-QI and anti-scratch technologies really make this Adam a big bang for your buck. The money you spend on the Notion Ink Adam will be well invested once they get the firmware bugs sorted out. We are certainly not forgetting that we got one of the FIRST units worldwide and obviously like any piece of new technology from a start-up company with no track record of developing this type of product, it will experience some growing pains. The big saving grace other then the hardware is the fact Notion Ink as a company, is visibly excited about this product. From when the product was first announced, and throughout the entire development cycle Notion Ink via their Blog kept the community in the loop. They petitioned the fans of the Adam to determine its color, extra colors it will eventually ship in, and even their logo. Not to mention its 1 million dollar Project Genesis application development program. Most companies for applications end up just giving away a free tablet, such as RIM and their new Playbook version of Appworld. You can tell Notion Ink is a company that is firmly standing behind their product and that is a company you want to get behind and support.
Stay tuned to the Good e-Reader blog, as we got a ton of Notion Ink video coming down the pipe. We have the unboxing and 1 hour review of the device. We are also putting together some iPad vs. Adam and how they perform under direct light with Pixel QI and reading in the dark. Also don't forget to visit our retail partner for all of your tablet and e-Reader needs, Shop e-Readers.
Update: Notion Ink has sent us an email saying that the firmware update along with instructions on how to install it will be sent out within the next day or two. Hopefully we can find Facebook, and email working correctly, along with the Android 2.3 update and the Genesis app store. All of these updates would greatly contribute to the device's feasibility of use in the next day or two.
Update 2: When the Notion Ink shipped, by default the date was set to 2009 which resulted in some software errors. When we mentioned the Facebook application earlier failed to connect it did with the error in the date and time. Once we manually changed this in the settings menu the application seemed to load fine, although it is branded "HTC Desire."
Update 3: Many people have been asking what USB format the Notion Ink Adam reads. We have taken some pictures of our findings and you can see the Adam reads both FAT and FAT32 but not NTFS.
Update 4: We have made a follow up review, that shows you how to fix a ton of software glitches and bugs. We compare the Adam to the iPad, show you how to load Android Apps on your Adam. We also go into eBook Android Applications and how ebooks look both in Pixel QI and normal mode. Finally, we compare e-readers and the adam side by side. Check it out HERE.
Update 5: We have issued a Tips and Tricks Thread and a 3rd review of the unit
[cincopa AUMASfaQg4cZ]

Michael Kozlowski has been writing about audiobooks and e-readers for the past twelve years. His articles have been picked up by major and local news sources and websites such as the CBC, CNET, Engadget, Huffington Post and the New York Times. He Lives in Vancouver, British Columbia, Canada.