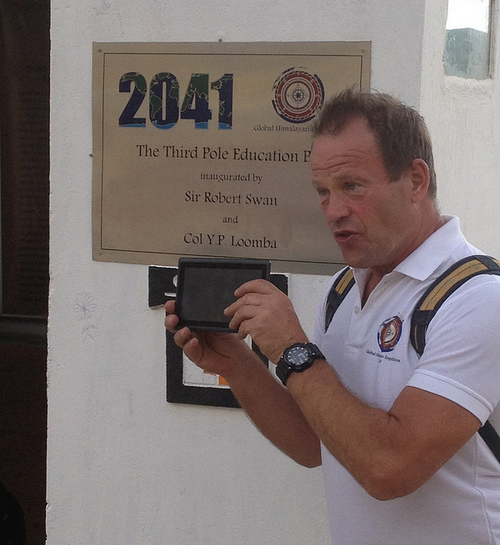 For some, adventure is all about conquering a particular terrain. They can go to any length just to accomplish their goal, often creating history in the process. However, history of a different kind is being created in a particular region in India by a team of adventurers. The place is the Ladakh region in the Indian state of Jammu and Kashmir, where a team of adventurers comprising of Paras Loomba have set up what they refer to as the Third Pole Education Base or just an ebase. For them, it's like giving back something to a place they have been so fascinated about. The first two such ebase has been set up in the South Pole and Pench tiger reserve in Madhya Pradesh.
Inaugurated by Sir Robert Swan, who has the unique distinction of being the first to set foot on both poles, the ebase serves as a digital library that is equipped with computers and tablet devices where local readers can visit to surf the net, watch videos, or read books. Schools can also organize trips to the ebase where the students can make the most of the facilities available.
One of the biggest positive aspects of the ebase is that it is open to everyone and is open all round the year. To achieve this, special effort has been taken to set up the ebase where the structure will be least prone to be affected by natural calamities such as flash floods, landslides, and such. Even the material that has gone into the making of the ebase has been specially chosen to provide enough insulation to ensure the interiors remains warm enough even during the harsh winter months. Equally laudable is the concern shown for mother earth, what with the entire ebase being fed with solar power, never a bad idea in a place that is referred to as a cold desert and is showered by ample sunshine for most parts of the year.
Paras Loomba and his team have left their jobs just to pursue the dream of doing something different and have been buoyed by the success of the ebase. They are keen to replicate the same model in other parts of the country, with the next ebase likely to be set up either in Sikkim or Arunachal Pradesh.
Sovan Mandal is the senior tablet and tech corespondent for goodereader.com. He brings a international approach to news that is not just applicable to the North American market, but also Asia, India, Europe and others. Sovy brings his own writing flavor to the website and is interested in Science Fiction, Technology and Writing. Any questions, send an email