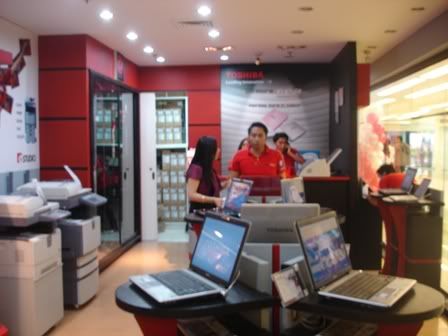 The latest Good E-Reader news item has Toshiba the 5th largest computer company, developing two slate PC's to complete with Apples tremendously early successful number of iPad units sold. It will introduce one slate on a Google Android platform and another more mainstream device with the Windows 7 Platform.
The Toshiba tablet announcement was confirmed by Jeff Barney, manager of digital products for Toshiba America, as the company considers a variety of 'iPad slaying' attributes, including a dual screen design with a 10 inch display that runs windows 7.
Toshibas enthusiasm for slate devices is apparent with Barney stating that the firm sees that there is strong market for these devices. Many people are forecasting 50 million Slate devices will be shipped in 2014. To help its cause Toshiba also said it is lining up content and distribution partners.
An insider at Toshiba has told us exclusively that they are working with major partner Intel on integrating their latest WiDi technology that would allow their two Slates to connect wirelessly over HDMI to your Television to your television directly. Intel showed this at the CES this year, and a few Toshiba laptops already have adapted this functionality. They also are looking at using Intel's ARM technology. ARM based ultra-mobile devices will surpass x86-based devices by 2013, a reversal from this past year when 90 percent of the ultra-mobile devices were x86-based.
Toshiba is the latest incumbent into a wide array of Slate announcements and will need to separate its design and product specifications to compete with the other Slates in production. The HP Slate, the Dell Mini 5, the Notion Ink Adam, Microsoft Courier, Google Slate and Neofonie WePad are all in the process of being developed and should see commercial releases from June to December of this year.
The Slate market is under a revolution trail blazed by Apples iPad runaway success with sales. Whether the market can sustain the demand for the products is another question entirely.
Slates can catch on to a wider audience then Netbooks were able to do and accomplish day to day tasks in key markets as an effective work tool. Think of a inventory controller at a small or medium sized grocery store, with the right app and slate, they do not need so many other devices, when they can take inventory, order new products and communicate with other devices on the network. Or think how much time an air line pilot will save. Instead of having an armload of maps, flight schedules, weather reports and everything else, a portable slate to have all of that information made available makes their lives easier.

Slates are still in their infancy, for all of the hype regarding them, only one real slate is on the market right now, the iPad. Consumers and markets have shown there is allot of attention on this item, as international sales have been scaled back to the end of May and EBAY sellers are making 200.00 mark-ups on every iPad. The initial demand is high for the iPad is high, but whether or not the market will accept other slate devices competed against a mega-company like Apple is all up in the air.
For Slates to be viable, they will have to offer features that the competition does not have, or be based at a totally different audience. The Microsoft Courier seems geared towards, production and design, while the Entourage Edge is more of an academic device. The Neofonie We-Pad seems geared towards an entertainment device, but partners up with independent developers and business to foster direct relationships with the customer. If Dell, HP, HTC, Google et all release the same kind of design, with all of the same touted features, such as HDMI, Camera, Flash, Video Streaming, that is not enough to differentiate from the competition.
For more info on the Toshiba Slate subscribe to our Good E-Reader Magazine on E-Reader and Slate/Tablets! It will be the best $1.99 you have ever spent!
Michael Kozlowski is the Editor in Chief of Good e-Reader. He has been writing about audiobooks and e-readers for the past ten years. His articles have been picked up by major and local news sources and websites such as the CBC, CNET, Engadget, Huffington Post and the New York Times.