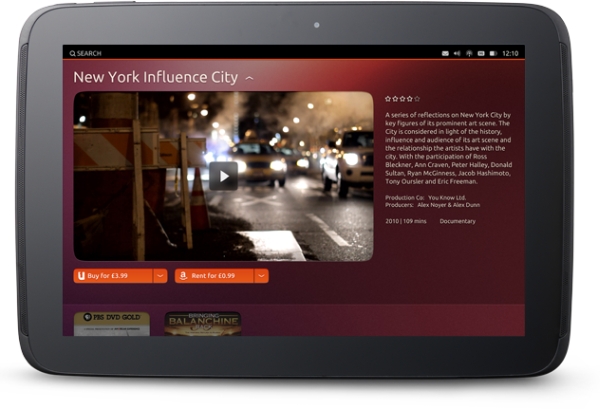 A presence in the new age tablet computing scene was the last frontier for Ubuntu to make its presence felt, and that has now been accomplished. We have seen Ubuntu in operation on desktops, smartphones, and even TVs with tablet PCs being the latest addition to that club. This should come as a sweet piece of news for die-hard fans of the Linux based operating system, though tablet PCs running Ubuntu could be seen entering the commercial stream not before late 2014. However, Canonical has stated the pre-release version of Ubuntu for tablets will be available for download on 21st February. Also, of course, the OS in its latest avatar will also be there to be experienced at the upcoming MWC.
Now coming to the operating system itself, Ubuntu for tablets will feature touch friendly attributes. However, this apart, perhaps the biggest attribute of the Ubuntu OS lies in it being device independent. The OS can be seen in operation with as much élan on a TV, a desktop, or a smartphone as in a tablet with no change of code called for. This is a significant positive quality of the OS as this means the same set of apps can be in operation on a desktop or a tablet with no need to tweak each individually. Another way this can be seen is that a tablet running Ubuntu can also be made to work as a desktop if a keyboard, monitor, and a mouse is attached to it. A mighty interesting scenario it sure is. Ubuntu for tablets will also allow the user to run a tablet app simultaneously with a desktop app, something that is being termed as the 'side stage'.
"Multi-tasking productivity meets elegance and rigorous security in our tablet experience," said Mark Shuttleworth, founder of Ubuntu and Canonical. "Our family of interfaces now scales across all screens, so your phone can provide tablet, PC and TV experiences when you dock it. That's unique to Ubuntu and it's the future of personal computing."
The tablet version of Ubuntu also offers touch based inputs which includes a swipe down from the top which will launch the notification bar. Similarly, swiping from the left edge will make available all the apps currently available. Also, while still on apps, the mobile SDK is available for app developers to get into the act of app making. Canonical has also stated they are specially promoting the development of apps in HTML5.
As for tablet devices running Ubuntu, the company has already tied up with a company to develop chips that will suit the OS.

Sovan Mandal is the senior tablet and tech corespondent for goodereader.com. He brings a international approach to news that is not just applicable to the North American market, but also Asia, India, Europe and others. Sovy brings his own writing flavor to the website and is interested in Science Fiction, Technology and Writing. Any questions, send an email