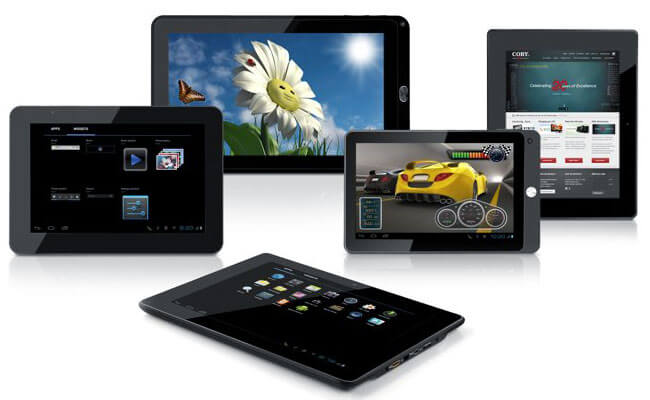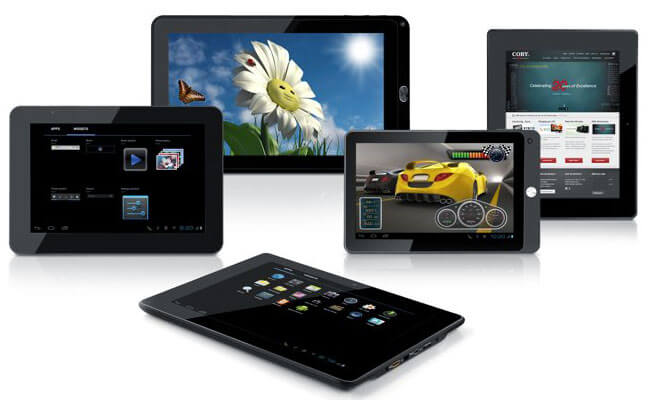 Every year at CES Coby shows off between 7 and 10 new tablets and this year was no exception. Their entire lineup would be considered really towards the low-end of the spectrum, with a fleet of single core processors and a paltry amount of internal memory and RAM. The only redeeming factor is that they will be running a modern version of the Google OS, Ice Cream Sandwich. The company I feel spreads itself too thin with releasing too many devices and does a poor job at marketing their tablets.
During the recent CES 2012 expo in Las Vegas, tablets were the order of the day. Samsung, Lenovo, Razor, Toshiba, Acer, and Motorola showed off a few tablets each and most were fairly unique. They generally had the latest generation of Tegra 3, which is a quad-core processor, and the devices had a distinctive modern feel. Meanwhile, Coby was showing off 5 new devices and 2 that were in the concept stage. I normally get excited when I check out prototype devices or concept tablets, but unfortunately, with the two 10.1 inch models, this was not the case. It blew me away that their idea of a concept tablet was a cardboard cutout with a piece of paper glued to it with an Android home-screen! What about the specs you may ask? Most of their tablets were running on a paltry 1 GHz ARM Cortex-A8 single core processor and they all had 1 GB of RAM and capacitive multitouch displays. They even had a few of their older models on hand with resistive displays that were upgraded to run Ice Cream Sandwich.
One reason why Coby is destined to fail at the tablet market is their PR department. When we spoke with a women at the Coby booth, she did not know the products at all and spent about 1 minute talking with us about the virtues of their new product line. By virtues she said they had "a bunch of cool tablets running the Ice Cream." She then was distracted by a gentlemen carrying a purse dog and proceeded to coo at it for 2 minutes, proclaiming it a 'chick magnet.' She then started to talk about the new 10.1 inch line of devices that would retail for around $300, and then again was distracted by someone with a camera that wanted to take her picture. Of course, she adjusted her hair and then asked a colleague if she was presentable. The two women proceeded to to lament being on their feet all day and were not in a photogenic state! Right in the middle of our on-again, off-again interview they put on makeup and started to pose for the camera, without any products in the shot. It was at this point that I thought to myself that this was the worst job at promoting a product that I have ever seen. By contrast ,when we were talking to one of the senior PR people at Samsung during our filming, they constantly asked what they could do to help and manually wiped down the tablet saying "You can get better pictures if I wipe all the fingerprints, here let me help."
Coby is a company that does not have a large footprint at all in the retail world and you would be hard-pressed to find any of their new tablets in your local electronics shop. The company seems to spend all of its time releasing a slew of garbage devices every year that feel outdated when you unbox them. In a world of quad core tablets, betting the farm on CPU Processors that were horrible in 2010 might not be the wisest thing to do.
This company really needs to get their act together and hire more professional representatives at various conventions and cease spreading themselves out too thin. I would rather ANY company focus on 2 or 3 new products a year and bring the hardware inline with the industry standard. As it stands, these devices have NO access to the official Google Android Market because of the lack of GPS and other critical features necessary for approval.

Michael Kozlowski is the Editor in Chief of Good e-Reader. He has been writing about audiobooks and e-readers for the past ten years. His articles have been picked up by major and local news sources and websites such as the CBC, CNET, Engadget, Huffington Post and the New York Times.