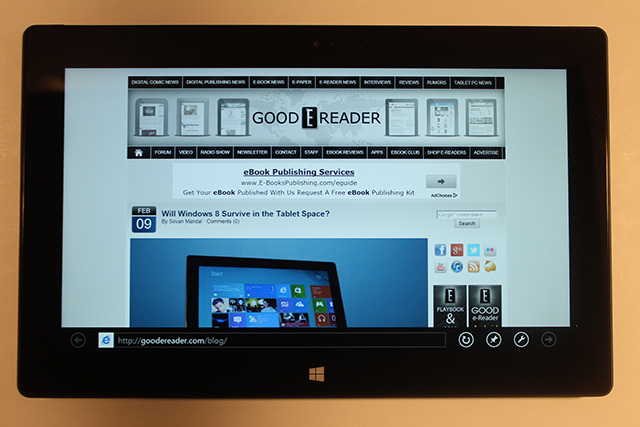 The Windows Surface Pro was released yesterday in the USA and Canada.  This new tablet brings the full Windows 8 experience that will allow users to run legacy apps. What this really means is that you can run any game or app and get more versatility than with the Surface RT edition. We have heard rumors of low memory and terrible battery life, but is this truly the case? We dive into the inner workings of the latest release from Microsoft to check it out.
Hardware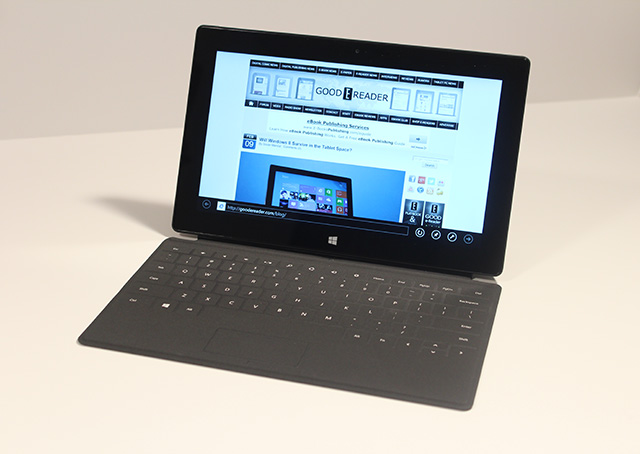 The Microsoft Surface Pro features one of the largest display screens in the tablet industry, with a whopping 10.6 inches. You can easily interact with RT and legacy apps with the 5 point multi-touch display. One of the great aspects is that the stylus is bundled for free with the unit. You can hover it around 1 inch above the display screen, and still point and click on different aspects. There is an eraser on the top of it that will allow you easily delete drawings or text. The stylus will also transcribe your handwriting to text, allowing you convert it to a Word document or commands.
The resolution of the display is fairly amazing and the HD video looks superb. You have 1920 x 180 of pixel density, but high powered games will appear lackluster with the system on the chip that Intel provides. The CPU is a i5 1.7 GHZ dual core processor and graphics are run by the Intel HD 4000. Really, if you intend on playing high powered games like Crysus, Farcry 3, or Old Republic, you won't get bleeding graphics, mainly because of the dedicated GPU.
The entire tablet experience is fairly quick, apps seem to load fairly quickly. This is mainly attributed to the 64/128 GB Solid State Drive and 4 GB of RAM. One thing we noticed with the memory space, is that it is not as advertised. You may have 64 GB of space, but when you turn it on for the first time, you only have 24.3 GB of memory.  I would fully recommend that you invest in a 64 GB micro SDXC card .
One of the worst aspects of this new Windows tablet is the battery life. You only have 4 hours! Almost every single other tablet on the market is around 8-10 hours. It is very hard to get any mobile business done with this tiny lifespan. Most ultrabooks, which the Surface Pro competes with, last longer.
Suffice it to say, the build quality is very high. There are hundreds of individual parts that were handcrafted for the Surface Pro. This gives you a really unique design with practical elements, such as the built in kickstand. The speakers are in built into the sides of it, which allow for great sound quality, even if it's laying on its back.
In the end, this is a very expensive tablet. At Futureshop in Canada, we paid over $1200 for the Surface Pro 64 GB and keyboard dock. I don't think Microsoft knows what they are doing with this model. Is it an ultrabook? Is it a tablet? With 4 hours of battery life and not the greatest graphics power, you will be hard pressed to render video, audio, or play high performance games.
Software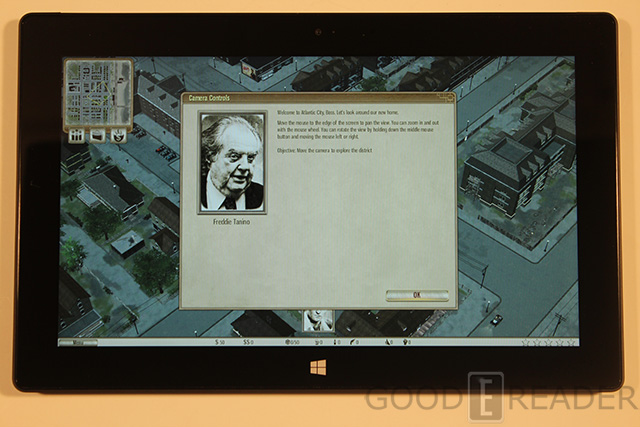 One of the biggest hyping factors behind the Surface Pro, is that you get the full Windows 8 experience. The Surface RT only gave you the ability to run the new apps that were custom made for the new architecture.  The Pro will let you use Photoshop, Warcraft, or Microsoft Office 2013, or whatever program you would normally use in a Windows environment.
There are a number of drawbacks with the normal desktop on the Surface Pro. The main one is the abysmal touchscreen interaction on your main desktop. Windows has suffered the last four years with a small UI and all the icons are very small. You often have to triple press icons to ensure that you are clicking on it right. Even the stylus does not help in many cases. One of the other issues is calling up the virtual keyboard. If you are using it in any RT app, it instantly calls up when you click on a search field or something with a input entry. When you are on your legacy desktop, the keyboard never appears in this manner. You always have to click on the keyboard icon on your task bar, which quickly becomes tedious. I suggest to always use the docking keyboard, if you tend to spend a lot of time in your desktop.
To be honest, RT is where you want to be on a Windows tablet. The entire GUI and UI were designed to be easily interacted with. When the new iteration of Windows first launched, the app selection was nothing to write home about. The ecosystem of apps has really developed in last few months and many apps are now available.
Video is looking very good on the PRO. Since you have a true HD display, you can get proper 16:9 aspect ratio, which makes Blu-ray or Youtube content look amazing.  If you are a video fiend, you may appreciate this model. Of course, with the legacy version of Windows you can run all of your different codex, which is normally unavailable on Android or iOS.
e-Reading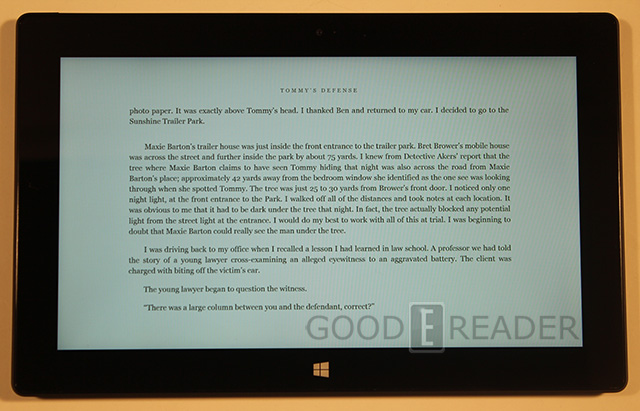 The Surface PRO offers one of the best e-reading platforms out of any modern tablet computer. You might say the iPad offers the most expansive selection of apps out there, but most companies do not sell ebooks via the iOS platform. This is mainly attributed to Apple implementing a policy that all in-app purchases are to be facilitated by iTunes, and Apples gets to take commission. If you look at how many ebooks, newspapers, and magazines are sold buy the likes of Amazon, Barnes and Noble, and Kobo, it makes sense. With Windows 8, you have every major ebook seller available and plenty of other content like comic books at your fingertips. You can buy anything directly in the app and it is carried over to any app you may have on any mobile platform.
One of the best changes in the entire digital reading arena has been with cloud storage and being able to buy content and read it anywhere on any device. Whether you do this from the web-browser or dedicated app, it is fairly effective.
The large 10.6 inch display really gives you tons of space to read newspapers, comics, and ebooks. If you have poor eyesight or wear glasses, the extra large area to read content may be something you want to consider.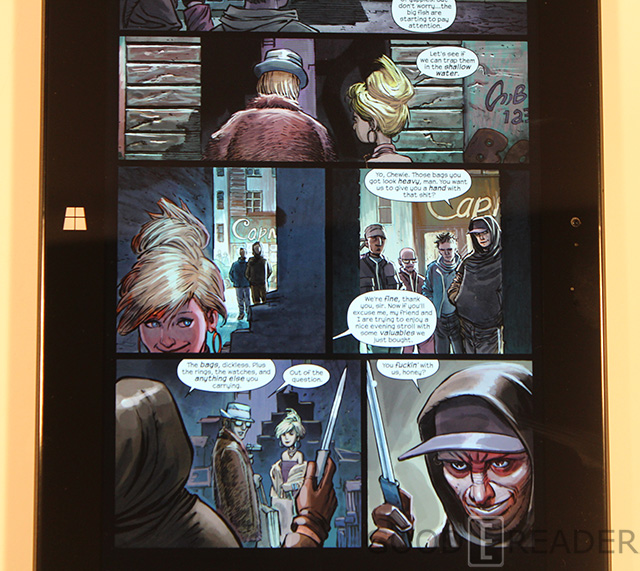 Wrap Up
The Surface PRO on a fundamental hardware level is fairly sound. It meets the needs of your average user, but may not appeal to people who need a high-performance machine. If you do casual website editing, blogging, small bursts of gaming, or browsing the internet, you should be OK. If you need to do extensive video editing, or image editing, you have major apps that you can use, but the rendering times may be lower than on a traditional PC.
The high price may turn off lots of casual users. At $1200 for the whole kit, you may as well buy a Macbook Air, or Samsung Ultrabook. For this kind of cheddar, you can buy a Kindle Fire HD, and an iPad. There is no reason the price should be this high, though this may be a viable investment if it comes down in price by $300.00.
PROS
HD Display
Stylus
Windows Legacy Support
Audio and Video Codex

CONS
4 Hour Battery Life
23.4 GB Free to Use on a 64 GB model
Blackberry Z10 Speaker Quality Is Better
Using the Virtual Keyboard in Desktop Situations Is Terrible
Rating: 6/10