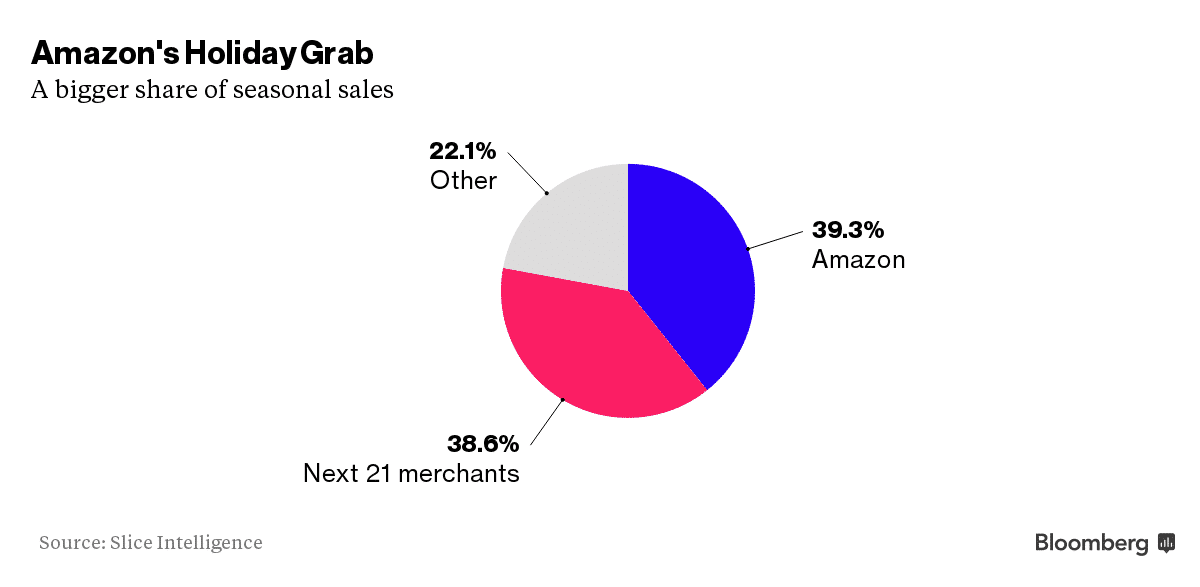 Amazon is dominating all of their rivals this holiday season as many people are rushing to buy things online. Two day shipping, free gift wrapping and a massive selection of products is resulting in a huge boom of sales.
Amazon took in 39.3 percent of e-commerce spending from Nov. 1 through Dec. 6, up from 37.9 percent during the same period a year earlier, according to Slice Intelligence, which gathers data through e-mail receipts of 3.5 million shoppers. You'd have to combine the Web sales of the next 21 retailers, including Wal-Mart, Target, Best Buy Co., Macy's Inc. Home Depot Inc., Nordstrom Inc. and Costco Wholesale Corp., to match Amazon's share, Slice data shows.
Meanwhile according to a recent Reuters/Ipsos poll, 51% plan to do most of their online shopping at Amazon this holiday season, compared to 16% at Walmart, 3% at Target and 2% at Macy's.
Data from ChannelAdvisor Corp., which helps 2,900 merchants sell goods on various online marketplaces, also indicates that Amazon continues to increase its share of online spending. Merchants using ChannelAdvisor software to sell on Amazon's marketplace saw sales jump 19.5% in the second week of December, faster than the overall e-commerce growth rate of 15%
"Amazon has done well on the basics of selection, convenience, value and trust, and it continues to build on those things," said Scot Wingo, ChannelAdvisor's chairman. "They invested a lot expanding their Prime Now service around the country, and that's been a real big win this holiday."
"The Big Kahuna that continues to grab market share is Amazon," said Craig Johnson, head of retail consultancy Customer Growth Partners. "Both Wal-Mart and to some extent Target have simply not kept pace enough."