In a new world order where tasks as basic as work, study, or entertainment require us to stare at a display for hours on end, it is the blue light that is perceived as the unexpected villain. However, the fact is, much of that has to do with the way our brains are 'programmed', to be more productive during the daytime while feeling sleepy at night. Now, the reason blue light is considered a villain is that it often tends to alter the normal sleep-wake schedule.
Since laptop or smartphone displays too emit blue light, apart from the sun, of course – the biggest emitter – too much exposure to these, especially during night time can play havoc with the person's sleep cycle. Now, the point is, there is nothing wrong with blue light as such. However, too much screen time at night might trick the brain into believing it is still daytime out there since the eyes are receiving more blue light via the display.
This way, the brain would be prompted to produce less of the hormone melatonin which otherwise prepares the body to take rest and ultimately drift into sleep, said Dr. Raj Maturi, a spokesman for the American Academy of Ophthalmology and a retina specialist at the Midwest Eye Institute. Will less melatonin, you will have difficulty sleeping. This should explain why it is important not to indulge in too much screen time at night unless it's absolutely necessary. Also, while the above reflects the general pattern which again has been scientifically proven, the effect is different for different individuals as not everyone's mental build is the same.
So much for blue light and its effect, mankind has also devised ways to mitigate the same though with varying effects. Take for instance blue-light glasses, which claim to cut down on the blue light to ensure there are less of these entering the eyes. But are those really as effective as they promise to be? A review of 17 studies on the same, as The New York Times claimed, points to such blue light glasses being not as effective after all.
The above study revolves around other related studies that aim to arrive at a clearer understanding of the effect of excessive screen time and the impact it has on our eyes. Scientists have also been trying to find out if computer vision syndrome which is characterized by irritable conditions of the eyes along with headaches and other related issues felt after prolonged screen time has anything to do with blue light; or if blue light glasses can help alleviate the conditions.
Unfortunately, that isn't the case. As Laura Downie, an associate professor of optometry and vision sciences at the University of Melbourne and her team found out, blue-light-filtering glasses did not seem to offer any advantage over standard lenses in terms of reducing eye strain. Mark Rosenfield, a professor at the State University of New York College of Optometry too corroborated the above findings claiming such glasses failed to prevent individuals' eyes from becoming fatigued or irritated.
That said, while there is no current evidence suggesting harm from blue light glasses, it's important to note that individuals relying solely on these glasses might forego other beneficial measures to mitigate symptoms linked to screen usage.
So, how to deal with the issues that one is likely to face when exposed to a display for long hours? Here are a few tips that Dr. Downie, along with other experts in the field have suggested.
Keep your eyes lubricated
Dr. Craig See, an ophthalmologist at Cleveland Clinic's Cole Eye Institute, explained that one contributing factor to eye discomfort is the reduced frequency of blinking when continuously focusing on a screen. This decreased blinking leads to quicker drying of the eyes. Using eye drops can help in such a scenario, Dr. Maturi suggested.
Take a break
Eye health specialists frequently advise following the "20-20-20" rule: Pause every 20 minutes and focus on something 20 feet away for 20 seconds. This practice aids in the relaxation of the eye muscles, as noted by Dr. Maturi. Nevertheless, a few researchers have proposed that 20 seconds might not be enough to provide enough rest to your eyes.
Minimize glare
Taking into account the lighting throughout your entire room and not just the illumination emitted by your computer, holds significance. Glare and reflections on your screen have the potential to induce eye strain, cautioned Dr. Downie. As such, it is important that you arrange your computer in a manner that reduces reflections from sources of light and reflective surfaces, such as windows and glass doors.
Position your screen thoughtfully
Maintaining the center of your screen slightly below eye level is recommended. If you find yourself grappling with eye strain, consider placing your computer a bit further from you — typically, an optimal distance is about 20 to 30 inches from your head, advised Dr. Downie.
This counsel also extends to your phone usage: Dr. Rosenfield noted that your eyes undergo increased strain when you hold your phone too close to your face. It's best to keep it at a distance of at least 16 inches, he recommended.
Use your prescription glasses
Utilize prescribed glasses when using a screen, as directed by an optometrist or ophthalmologist.
AAO's recommendations for better rest
The American Academy of Opthalmology or AAO recommends refraining from using devices for 2–3 hours before going to bed. Employing dark or night mode on the device could also be beneficial. The latter refers to the feature that automatically adjusts screens to warmer tones after a designated time.
Seek assistance
If you find yourself consistently experiencing eye strain and the aforementioned strategies yield no improvement within a span of three to four weeks, it's advisable to reach out to an eye specialist.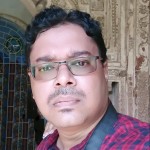 With a keen interest in tech, I make it a point to keep myself updated on the latest developments in technology and gadgets. That includes smartphones or tablet devices but stretches to even AI and self-driven automobiles, the latter being my latest fad.