In the realm of virtual meetings, the background you choose for your Zoom calls may have more impact than you think. According to a study conducted by Paddy Ross and his team at Durham University in the UK, individuals create a better first impression when their Zoom background features books or plants rather than a conventional living room, NewScientist reported.
Ross and his colleagues embarked on their investigation by collecting 72 photos of 36 white adults, evenly split between 18 men and 18 women, exhibiting either a smiling or neutral expression. These images were sourced from a human faces photo database for researchers. The researchers then imposed these faces onto various backgrounds, including a living room, a blurred living room, a bookcase, plants aligned across a cupboard, a blank wall, and a walrus in front of an iceberg. The images were framed to simulate screenshots during a Zoom call.
Subsequently, 167 participants were asked to rate the perceived trustworthiness and competence of individuals in the 72 images on a scale from 1 to 7. The results revealed that the most favorable first impressions were associated with backgrounds featuring a bookcase or plants, while the least favorable were linked to images set against a living room or a walrus backdrop. The blank wall and blurred living room backgrounds fell in between these extremes.
Additionally, the researchers found that among photos with an unblurred living room background, women were more likely to be judged as competent and trustworthy compared to men who had the same background. Ross suggests that further research is necessary to unravel the reasons behind this gender-based discrepancy in first impressions.
Regardless of gender, the study highlighted that a smiling expression contributed to higher perceptions of competence and trustworthiness compared to a neutral expression. Ross posits that this might be attributed to the suggestion of self-confidence that comes with a smile.
As the world continues to navigate virtual interactions, understanding the nuances of visual cues, such as background choices and facial expressions, becomes increasingly crucial. The study sheds light on how small elements, like the presence of books or plants, can significantly influence the impressions we make in the digital realm.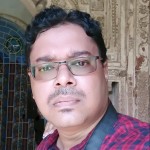 With a keen interest in tech, I make it a point to keep myself updated on the latest developments in technology and gadgets. That includes smartphones or tablet devices but stretches to even AI and self-driven automobiles, the latter being my latest fad.