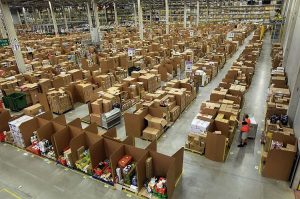 As news came out that Amazon's stock has reached an all-time high–only five months after reaching what was then its all-time high at almost $100 less per share–the retail giant is still being plagued by news and protests about the wages it pays its employees globally. A Change.org petition has even been started, demanding that Jeff Bezos pay his employees more.
Why? Simply because he can.
While different organizations take up the cause of the employees in Amazon's global distribution centers for their wages (or perceived lack thereof), Amazon came back with a statement that it pays its employees at a higher average than even the minimum required; this includes its seasonal employees, who typically make less than full-hire employees in every industry.
For example, the Living Wage Foundation in the UK cites that the legal minimum wage is 6.31 and hour, while the actual wage required to maintain a minimum standard of living is actually at least 7.65 an hour. Amazon pays its seasonal UK employees 7.01 per hour, according to its statement. Those wages are listed in pounds.
Translated into US prices (but not adjusted for cost of living), that amounts to 11.52 an hour, far above what US employees make from not only Amazon, but from another major US retailer whose average permanent employee only makes 8.40 an hour, according to Glassdoor.com; additionally, the average Walmart employee makes 8.81 an hour according to MakeChangeatWalmart.com, and the average McDonald's employee makes 7.72 an hour, again according to Glassdoor.com.
While no one can argue that these wages are enough to feed yourself well, let alone thrive, the question begs to be asked: why are we expecting Amazon to be better than other retailers? Walmart and McDonald's have come under fire recently as well, but why are consumer groups and workers' advocacy agencies targeting individual corporations rather than enacting change across the board?
The Living Wage statement on the Amazon salaries actually makes the claim that Amazon should pay its employees more simply because they have enough money. According to the petition, "Amazon has more than enough money to pay its workers…Amazon is an enormously successful company." So Amazon is supposed to just decide to be better than all of the other companies who turn incredible profits off the backs of their laborers?
All of the allegations of warehouse abuse aside, instead of targeting lone companies and insisting that they change their entire mindsets towards paying their employees, citizens can work for legislation for fair wages and consumers can vote with their wallets. But can we really expect a company to just stretch a benevolent hand to its employees and decide that the executives have more than enough?
The CEO of Costco, which pays its employees an average of $20.89 an hour, probably has a lot to say about that.
Mercy Pilkington is a Senior Editor for Good e-Reader. She is also the CEO and founder of a hybrid publishing and consulting company.