Amazon CEO Jeff Bezos recently conducted a 40 minute interview with Axel Springer CEO Mathias Döpfner. He talked about why he decided to start selling books and the extenstional threat that Barnes and Noble provided when they first started selling books online.
Why did Jeff Bezos pick books as the first thing that Amazon started to sell? "I picked books because there were more items in the book category than in any other category. And so you could build universal selection. There were 3 million in 1994 when I was pulling this idea together — 3 million different books active in print at any given time. The largest physical bookstores only had about 150,000 different titles. And so I could see how you could make a bookstore online with universal selection. Every book ever printed, even the out-of-print ones was the original vision for the company. So that's why books. "
He went on to say "Well, I knew that the books, strangely — I was very prepared for this to take a really long time. I knew that the books business was going to be successful in the first 30 days. I was shocked at how many books we sold. We were ill-prepared. We had, like, only 10 people in the company at that time. And most of them were software engineers. So, everybody, including me and the software engineers were all packing boxes. We didn't even have packing tables. We were down on our hands and knees on a concrete floor, packing the boxes. At about 1 or 2 in the morning, I said to one of my software-engineering colleagues — I said, "You know, Paul, this is killing my knees. We need to get knee pads." And Paul looked at me and he was, like, "Jeff, we need to get packing tables." [Laughs] And I was, like, "Oh, my God, that is such a good idea." The next day I bought packing tables, and it doubled our productivity, and probably saved our backs and our knees too. "
Did you know Amazon faced a series crisis and almost went bankrupt? "I remember, early on, we only had 125 employees, when Barnes & Noble, the big United States bookseller, opened their online website to compete against us, barnesandnoble.com. We'd had about a two-year window. We opened in 1995; they opened in 1997. And at that time all of the headlines — and the funniest were about how we were about to be destroyed by this much larger company. We had 125 employees and $60 million a year in annual sales — $60 million with an "M." And Barnes & Noble at that time had 30,000 employees and about $3 billion in sales. So they were giant; we were tiny. And we had limited resources, and the headlines were very negative about Amazon. The one that was most memorable was just "Amazon. toast."
"And so I called an all-hands meeting, which was not hard to do with just 125 people. We got in a room, and because it was so scary for all of us, this idea that now we finally had a big competitor. That literally everybody's parents were calling and saying, "Are you OK?" It's usually the moms calling and asking their children are you going to be OK? So, and I said, "Look, you know, it's OK to be afraid, but don't be afraid of our competitors, because they're never going to send us any money. Be afraid of our customers. And if we just stay focused on them, instead of obsessing over this big competitor that we just got, we'll be fine." And I really do believe that. I think that if you stay focused and the more drama there is and everything else, no matter what the drama is. Whatever the actionable distraction is, your response to it should be to double down on the customer. Satisfy them. And not just satisfy them — delight them."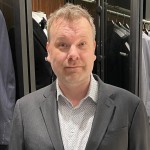 Michael Kozlowski has written about audiobooks and e-readers for the past twelve years. Newspapers and websites such as the CBC, CNET, Engadget, Huffington Post and the New York Times have picked up his articles. He Lives in Vancouver, British Columbia, Canada.