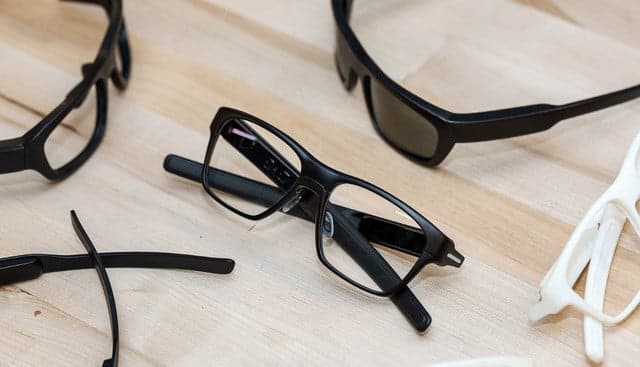 Augmented reality is the hot new trend and many developers are focusing on the gaming aspect. I think with the advent of the new Intel Vaunt and similar products, AR will not only be the future of shopping, but bookselling.
Dieter Bohn over at The Verge got an exclusive behind-the-scenes look at the next-generation smartglasses, and it's hard not to get excited about their potential. These are, first and foremost, glasses. They're just regular old prescription or non-prescription glasses you would wear during the day and charge at night. There's not a computer attached to your head or some weird bulky attachment to your existing glasses. They pair with your smartphone, which will keep costs low. Intel has stated that they are not going to market the glasses directly to consumers, but will partner with a firm to bring them to market, likely Amazon.
Many companies such as Magic Leap, Microsoft, Meta, ODG, Mira and DAQRI to launch are also launching AR glasses. At the same time we are seeing Apple, Google, Facebook, Snap and others rushing to release platforms for smartphone-based AR.
I think the future of shopping in bookstores will be with AR glasses. When you walk into your average bookshop such as Barnes and Noble or Indigo there are precious few books that are front facing and the rest are stacked side by side. How do you know if a book is new, old, or highly rated? I can imagine a day when your glasses will customized features for bookstore shopping, such as reviews that float over a book with the GoodReads API framework and clicking on a virtual review will give you everything you need to know.
Many bookstores have terminals where you can type in an author or a book and get a printout of where it is in the store, often you have to ask someone to direct to you to that specific section. AR glasses would allow you to have a virtual waypoint, that would highlight a route to that specific book. Sort of like when you have a quest in a MMORPG, it literary directs you to where you need to go.
Amazon, Target and other retailers have added AR functionality to their smartphone apps, but nobody wants to be holding their phone up and scanning ISBN numbers or QR codes. Phones these days have huge screens and are not meant to be held for a long period of time. Most AR glasses pair with your smartphone, so shopping and buying things is the logical next step.
The one thing that is holding AR glasses back is a unified framework, most companies keep that sort of thing proprietary. This is why there is no Raspberry PI of the AR world, something anyone can develop tools and software with ease.

Michael Kozlowski is the Editor in Chief of Good e-Reader. He has been writing about audiobooks and e-readers for the past ten years. His articles have been picked up by major and local news sources and websites such as the CBC, CNET, Engadget, Huffington Post and the New York Times.