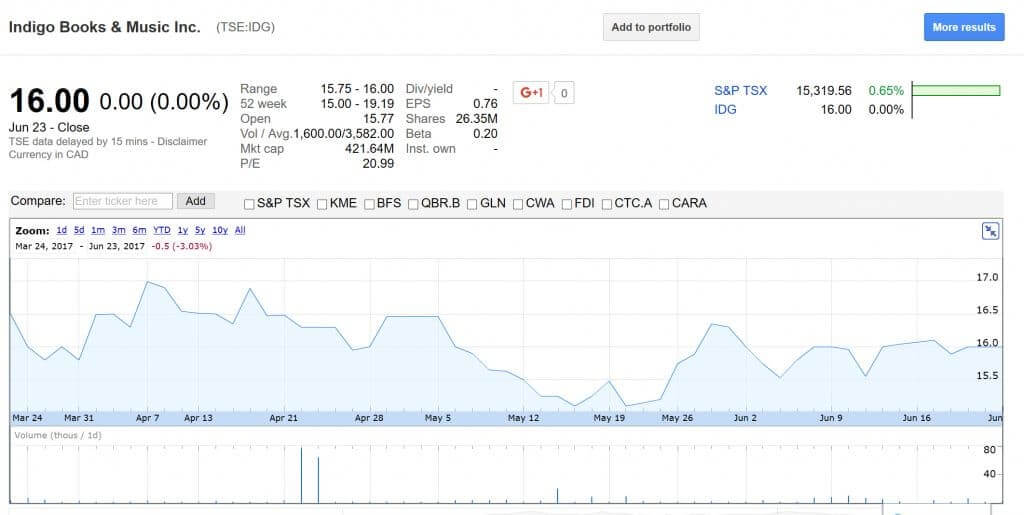 The largest bookstore in Canada is doing quite well and they have zero debt. Earlier in the month Indigo Books and Music released their financial data for the past year and they reported that total revenue increased by $26 million or 2.6% compared to the previous year which was a 53-week reporting period. On a 52-week basis, total comparable sales, including both online sales and comparable store sales, increased by 4.1%.
Indigo reported net earnings before tax of $29.0 million compared to $22.1 million last year. The improvement in pre-tax earnings was driven by improved revenue and margin, as well as lower head office costs, partially offset by higher distribution centre operating costs. Of note, on a comparable basis, when excluding the impact of a one-time benefit from a lease disposition last year, pre-tax earnings improved by $11.4 million. The Company reported net earnings of $20.9 million for the year compared to $28.6 million last year. The variance is explained by a primarily non cash income tax expense of $8.1 million in the current period compared to an income tax recovery of $6.5 million last year. Indigo ended the year in a very strong financial position with cash and short-term investment balance of $230 million and no debt.
Revenue growth was driven by continued double-digit growth in general merchandise, most notably lifestyle products and toys. Book sales remained solid as sales for Harry Potter and the Cursed Child partially offset the declining trend for adult colouring books.
Many investors are bearish about the Indigo stock because they see long term value. They are the only bookstore chain in Canada and have a monopoly. Last year the CEO of Indigo proclaimed that they are taking a serious look at expanding into the US market by 2018 or 2019. Indigo is going to start renovating nearly every bookstore in the chain within the next 30 months, says chief executive officer Heather Reisman.  "The fleet is old now, most have not had investment in a long time, so now we're going to be investing all across the board,"