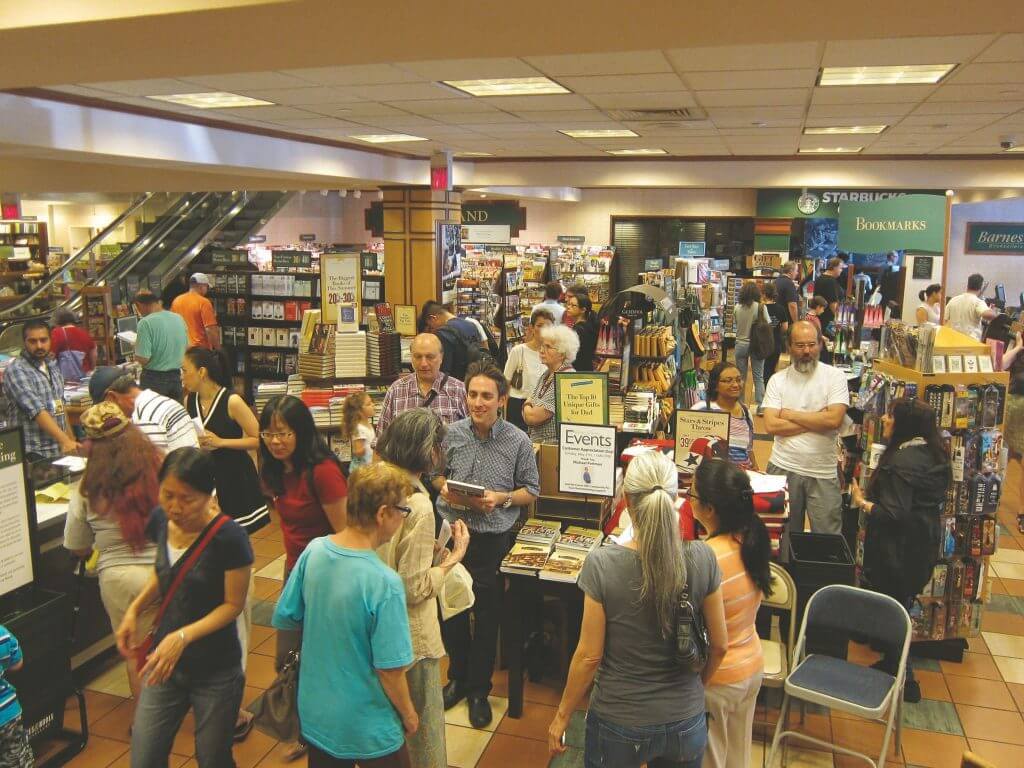 Barnes and Noble will be releasing their quarterly earnings report tomorrow and there will be a ton of doom and gloom regarding their ailing Nook division and sagging bookstore sales. The company does have a few bright spots that few people consider.
Barnes & Noble operates 634 stores in 50 states in addition to its online and digital offerings. Despite its multi-channel proposition, revenues have declined an average of 4.2% per year since 2012. Income from continuing operations has also been less than stellar.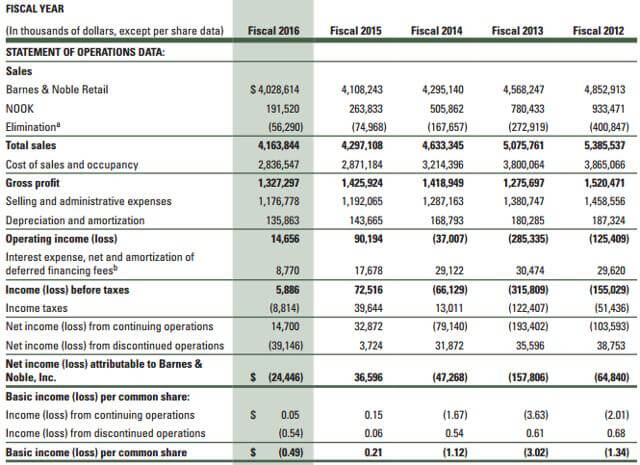 The retail environment has also been a challenge with store sales falling across the board and there are a lack of fad products, such as adult coloring books. What management has not really disclosed is how Amazon is literally killing them.
There are a few factors that continue to aid Barnes and Noble with generating revenue. They have been able to grow non-book revenue to almost 30% of total revenue, with recent success in music, toys, gifts, magazines, and cafes. In addition, while online sales are still only a small portion of revenues, they are trending in the right direction. Over the last two quarters they have increased 2.2% and 12.5%.
Barnes & Noble never talks about their membership problem, but three months ago at one of their investor days, they disclosed how their membership program works. Over the last several years, membership has grown to a base of over 6 million members. These customers spend more than twice as much as non-members and the program enjoys over a 70% retention rate. Similar to Amazon's Prime Program, members pay an annual fee to receive free express shipping, discounts, and other perks throughout the year.
The Nook division is a shadow of its former self and continues to lose money, but B&N has been slashing expenses to try and make it profitable. Last year all Nook software development was outsourced to Bahwan CyberTek. This company will take over certain NOOK technology services, including cloud management and development support for NOOK software. Barnes & Noble said that as a result of the agreement with BCT, it closed down their Santa Clara R&D center and Taiwan offices.
This transition is supposed to provide an annual cash savings of approximately $13 million, which includes approximately $8 million of expense reductions and approximately $5 million of capital expenditure reductions. B&N also saved money by closing down their Nook Video and Nook App Store and abandoning the UK market. There is no word on how much of a savings this provided, because they would not disclose it to Good e-Reader.
Tomorrow's earnings call may provide investors and the publishing industry an opportunity to get strategic insight from the new executive. An interview with Fortune magazine did reveal some of his thoughts, including a willingness to adapt the business model in order to drive in-store traffic.
I think Barnes and Noble is due to generate significant revenue in the next five years. The e-book market has plateaued and book sales grew by 2.8% in 2015 following a 2.4% increase in 2014.  Bookselling is also stabilizing. The American Booksellers Association had 1,775 member stores in 2016, an increase from 1,410 in 2010. The recent growth follows decades of decline. Barnes & Noble will need to differentiate themselves from independent stores as well as Amazon's foray into the space in order to be viable into the future.