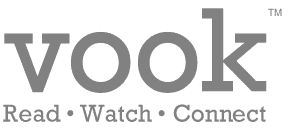 Traditional ebooks don't allow the author to directly interact with the reader. There are companies like Autography have developed platforms that allow authors to sign the digital book by interjecting a new page within, but if an author wants to talk directly to the readers, there aren't many viable platforms to make it happen. Vook is seeking to change this paradigm with the advent of WeJIT technology.
WeJIT is a platform that allows authors and readers to chat within a digital book. It was originally developed by Democrasoft and licensed to Vook in a new deal struck today. This new feature will be available in the Vookmaster development platform. WeJIT basically allows an ebook reader to communicate, from within the ebook, directly with the authors. It can also be expanded outside the book by people who don't even have a copy of it. This can be accomplished via Twitter and Facebook.
WeJIT is not new technology; it has already been implemented in 2012. The top selling book 11 Days in May by JD Messinger included 32 embedded WeJIT discussions. It opened the doors for an author to respond to message board dialog. This has quickly resulted in many requests from other authors around the country to have the same WeJIT capabilities in their own digital editions.
"eBooks are rapidly evolving" said Democrasoft CEO Richard Lang. "WeJITs provide multi-way interactive author-reader-reader experiences inside of ebooks, as well as bringing in brand new readers. This enables authors to have impact and reader engagement that is far greater than what the traditional ebook experience currently affords."
Matthew Cavnar, VP of Business Development at Vook, stated, "The combination of our ebook creation and distribution abilities and Democrasoft's WeJIT capabilities is something that we believe is going to help authors develop savvy new ways to market their ideas and connect with their audience."
WeJIT will not come free for authors looking to take advantage of this platform. The current rates are between $99 and $299 offered directly via WeJIT. It is unknown if Vook will offer more competitive pricing or what the strategy will be to entice more authors.
Michael Kozlowski has been writing about audiobooks and e-readers for the past twelve years. His articles have been picked up by major and local news sources and websites such as the CBC, CNET, Engadget, Huffington Post and the New York Times. He Lives in Vancouver, British Columbia, Canada.