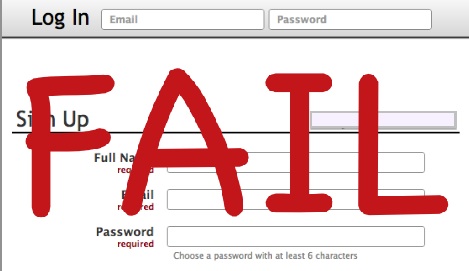 This morning, I ran across a mention of an e-book about comics that I thought looked interesting. I went to the vendor's site and was pleased to see that I could pay with PayPal. Everything went swimmingly—I chose my book, entered my PayPal e-mail, and, since I had no memory of ever using this site before, created a new account (username, password) when prompted.
And then everything ground to a halt. I got a red message saying that a duplicate e-mail had been detected.
How many times has this happened to you? You go to a site that requires you to set up an account, do some sort of business with them, then forget all about it, and years later, when you go back and try to buy something from them again, you can't create a new account (because you already have one) and you can't log in with your old account because 1. It was five years ago and you lost the login info; or 2. You have the login info but for some reason it doesn't work.
Most e-commerce sites are fairly helpful when option 1 happens; you can do the "lost password" thing and life is good. In this case, because I never delete an e-mail, and because this particular site sends your password in a plain-text e-mail rather than directing you to a link (which doesn't seem very safe, frankly), I had the login info. It just didn't work.
OK, they have a support page. Oh, wait—the support page is filled with FAQs and links to forum discussions, none of which deal with my particular problem. (Digression: Has anyone, ever, found the answer to their question among the FAQs on a support page?)
Finally, I find a link to e-mail their support staff directly. I click the link. Aaaaand…
I have to log in to send them an e-mail.
Really? Really, obscure e-book site that probably should have gone out of business years ago? Is there some problem with random strangers asking you questions about your terrible interface that causes you to put your support behind a security wall?
All I wanted to do was buy a $2.49 PDF of a book that looked interesting. What I got instead was 20 minutes of frustration and no e-book. The technical problem involved is common, and I have run into it before: Yeah, I created an account years ago, and now I'm back. Most e-commerce sites can handle it, but the handful that can't just drive me nuts. Punishing someone for being a returning customer seems like a poor business strategy, and in this time of long tails and short memories, every online retailer should be able to deal with this simple issue.

A former book editor and newspaper reporter, Brigid Alverson started MangaBlog to keep track of her daughters¹ reading habits and now covers comics and graphic novels for Comic Book Resources , School Library Journal, Publishers Weekly Comics World, Robot 6, and MTV Geek. She also edits the Good Comics for Kids blog at School Library Journal. Brigid was a judge for the 2012 Eisner Awards. Send her an email to wordballoons@gmail.com