Somehow, Winnie-the-Pooh, a beloved children's book written by author A.A. Milne in 1926, is still newsworthy almost 100 years later. According to the Smithsonian, the original idea for the popular character came from the New York Public Library children's section where a posse of stuffed toys dwelled. Together, in one cage, there was a donkey, a young pig, a tiger, a kangaroo, and a bear known the world over as Winnie-the-Pooh. This isn't the red-shirted wearing tubby fluff of a bear we all know and love. No, the OG Pooh was more hardcore, literally; it's core was stuffed with sawdust, straw and wood wool.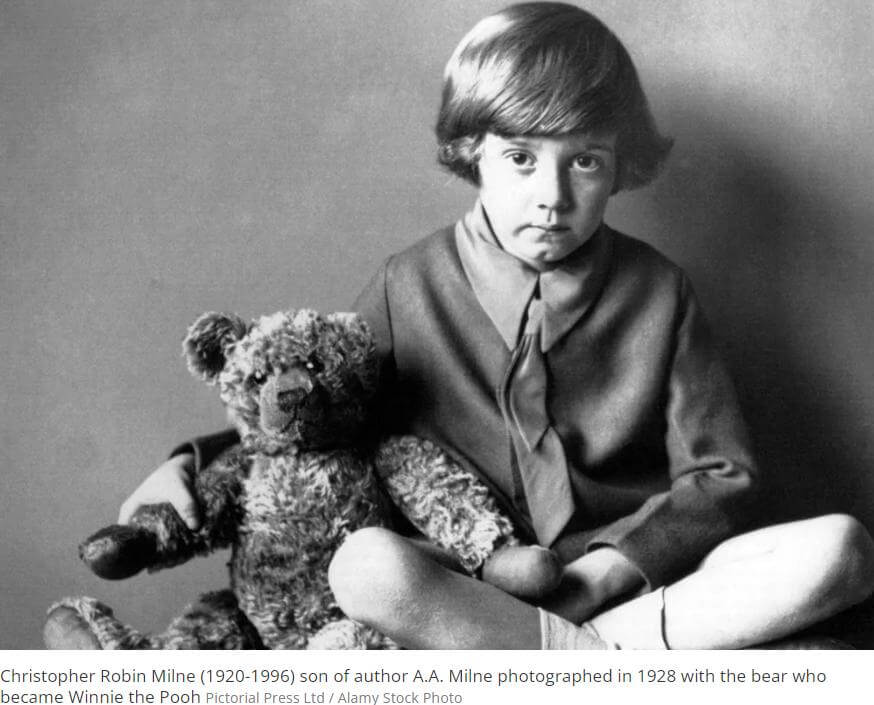 Now, in 2023, Pooh and the gang are being reimagined and used in a wide range of projects. From a deforestation awareness campaign, to a low budget slasher film, and now, for the first time in years, a new character is being adding to the forest dwelling crew.
You may be wondering how A.A. Milne's stories could be undergoing so many alterations and changes. Well, in Jan 2022, Winnie the Pooh, was added to the public domain, and works in the public domain are no longer covered by copyright. This means there are no restrictions on how they are used.
Officially, Disney owns the rights to the franchise, but there are some limitations to that. For example, they own certain characters' likelihoods and how they are presented; such as Pooh in his red t-shirt, but not the concept itself. The original 1926 Winnie-the-Pooh's black and white illustrations were done by E.H. Shepard. Red t-shirt Pooh didn't appear until the early 1930s, that specific image, as well as other colorized versions, are not yet in the public domain.
New Character in Latest Official Sequel
Break out the honey! Carmen, a little dog, is the newest friend to join the forest gang in a new
 Winnie-the-Pooh
book. According to a Sept. 21st
news release,
Carmen makes his debut for the first time in a newly released authorized sequel titled,
Winnie-the-Pooh: Tales From the Forest
.
A few authorized sequels were released following Milne's death in 1956. The latest tale is written by children's author, Jane Riordan, and was just released by Harper Collins on September 28th.
In a piece she wrote for The Telegraph, Riordan acknowledged that the idea of introducing a new character among already-established greats like Tigger, Eeyore, Piglet and Poo Bear had brought her "some trepidation."
She went on to share that her inspiration to create Carmen came from reading a 1966 interview of Milne's wife Daphne. In the interview, Daphne "reminisced about Milne taking a small toy dog called Carmen with him when he served in the First World War".
Riordan wrote, "Carmen, in my mind, would be a very brave little dog: she had, after all, sat in Milne's pocket at the front, and when he was hospitalised with trench fever. To mark her bravery, I had the idea of this dog longing to be a lion – which is why she doesn't bark… she roars."
A Toilet Paper Company Raising Awareness with 'Poo'
A brand new free eBook, aptly named Who Gives a Crap, was created to raise awareness about deforestation. This imaginative PR project was created by Danny Alexander. According to NPR, Alexander wanted the Deforested Edition to, "spark a conversation between parents and children…about the impact our daily habits have on the environment, and how we can all be part of the solution." They also created a hard cover version (shown below) however, it quickly sold out. According to their website, more will be printed, and I'm going to go out on a limb here and assume it's on recycled paper.
Jennifer Jenkins, director of Duke University's Center shared, "It's just an extremely powerful re-use of the original Winnie-the-Pooh book to convey that even a bear 'of very little brain' could appreciate the impacts of deforestation."
Winnie the Pooh: Blood and Honey
When news broke that the beloved children's novel was going to be turned into a slasher film it got a huge spike in popularity, clearly showing support for the idea. The release of Winnie-the-Pooh: Blood and Honey was originally set for a nationwide one-night event, however due to the media buzz, its release was expanded it to a major worldwide theatrical event.
Many classic Pooh fans were horrified by this project, which should come as no surprise since film maker Frake-Waterfield's goals were just that; "I am out to destroy all seven billion childhoods," he shared with The New Work Times. Although he did follow up with saying, "Just kidding", many of the outraged public felt that was exactly what the film maker was trying to do to a classic story.
This movie is spectacularly unsuitable for children. It features a terrifying pair of psychopaths, human-sized Pooh and Piglet, who essentially become feral after Christopher Robin abandons them. These completely insane versions go on a gore-splattered killing spree.
The film was shot in 10 days in Ashdown Forest England with a low budget of $100,000, yet it managed to rake in $5.2 million. Despite mostly negative reviews, film maker Rhys Frake-Waterfield has announced that a sequel is in production.
Reimagining- Or Ruining?
It's amazing to see what ideas and stories pass the test of time. Even the original Pooh doll still exists; although, he's a bit matted down and squished from snuggles. However, he's still pretty spry for a centenarian. (Although, on the down low, our Boy's had a little work done).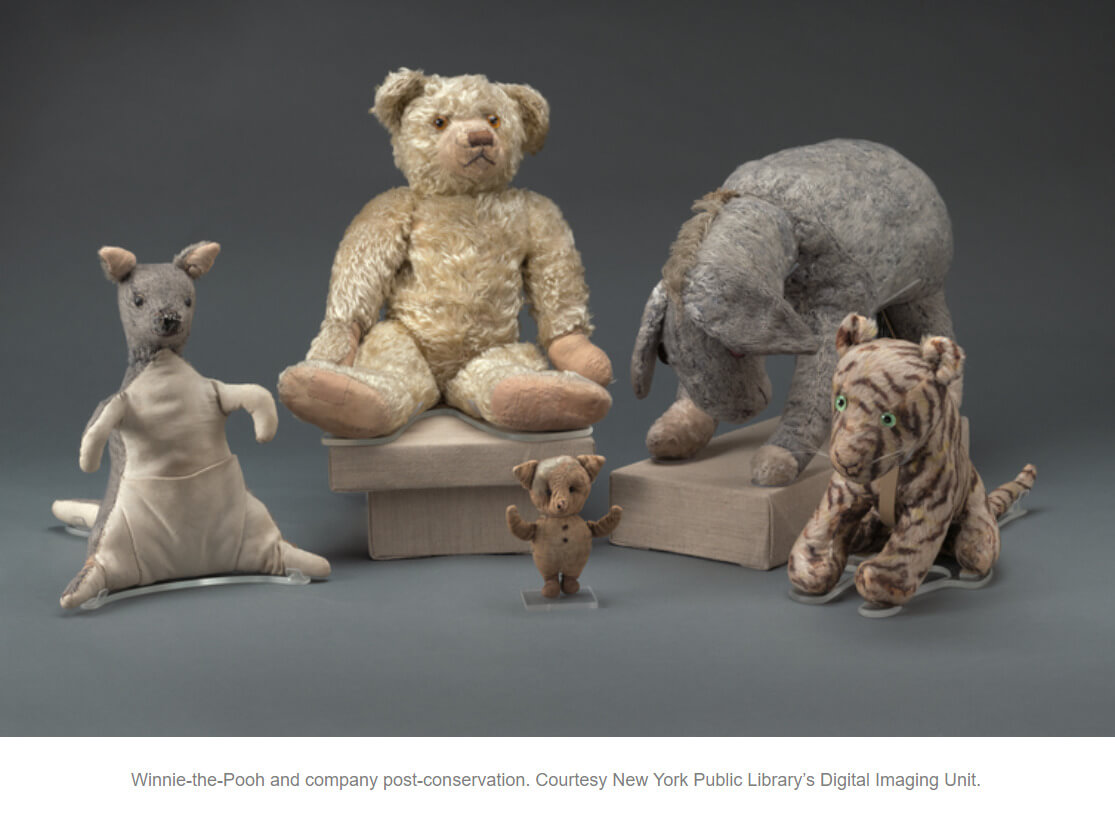 The purpose of copyright is to promote the creation and extension of knowledge. This can have many advantages for new artists, owners of copyright materials, and society as a whole. However, if copyright is too restrictive and limiting, it can have a constricting effect on innovation and will inevitably not serve its purpose.
As share by John Hopkins University, "Copyright protects creative works such as books, films, images, and songs from being copied without the permission of the work's creator and copyright holder. U.S. copyright laws grant the creator of content ownership for 95 years, which means famous works eventually enter the public domain." Once artistic works are in the public domain, they belong to the public and other creators are free to reimagine them however they see fit.
According to writer, Kristofer Erickson, The Public domain creates significant economic benefits. "We found a surprising amount of transformative reuse of public domain materials by commercial users – economic value that wouldn't have been possible without access to a thriving public domain." The public domain offers open access to creators. Sometimes seeking permission to works can be highly costly, time-consuming and on some occasions, the original creator (or those to whom the rights have passed) cannot be found at all.
When interviewed, Danny Alexander shared that he and his colleagues struggled with the idea of tampering with such a beloved character, but "ultimately the message you're trying to get across here is one that's really powerful and is challenging, and I think it kind of fits the message." He also shared that they decided not to contact the A.A. Milne estate about their new version.
Frank-Waterfield told the Times, "I'm not a lawyer. Parody and trademark law kind of goes over my head a little bit," he said. "But I do understand that if something's gone into the public domain, it's free rein."

"I wonder why things have to change," murmured Piglet.
Pooh thought for a while, then said, "It gives them a chance to get better."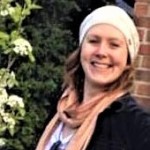 An avid book reader and proud library card holder, Angela is new to the world of e-Readers. She has a background in education, emergency response, fitness, loves to be in nature, travelling and exploring. With an honours science degree in anthropology, Angela also studied writing after graduation. She has contributed work to The London Free Press, The Gazette, The Londoner, Best Version Media, Lifeliner, and Citymedia.ca.