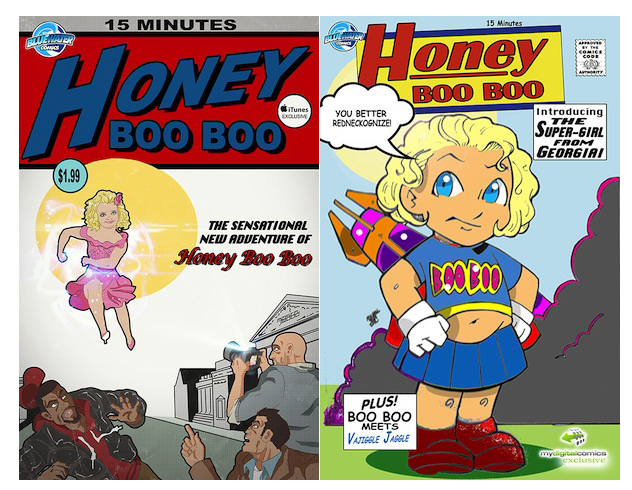 Variant covers are a long-established tradition in print comics: Basically, publishers print part of a run with one cover and part with another. Since print comics buyers often are collectors at heart, they may buy both versions of the comic just to have them. In addition, some variants are offered to retailers who order a certain number of comics, and since those variants tend to be fairly rare, retailers often sell them for more than the cover price. It all seems kind of silly to me, as someone who is generally more interested in the contents of the comic than the cover, but there is a certain logic to it in the print world, and it sells comics.
Bluewater Productions is doing something new, though: They have come up with digital variant covers for the different versions of their Honey Boo Boo bio-comic. I was curious about how the concept of variant covers translates to digital media, so I e-mailed some questions to Bluewater president Darren Davis.
Good E-Reader: Are each of the variants exclusive to the platform (iTunes, Kindle, etc.)?
Darren Davis: They are exclusive to each of the platforms. We also wanted to make them different enough so people were getting value in each one if they wanted more than one. The covers are also tagged with the platform's logo.
Why did you decide to do this? Do you think people will buy more than one comic in order to have the different covers?
The real reason is we wanted to have fun with these, that turned into part of the business. We heard from Honey Boo Boo that she wanted to be animated and loved the comic book we did on her (on the flip side, Hillary Clinton, Barbara Walters, Carrie Fisher, and Ellen DeGeneres did, too). Boo Boo wanted to be an animated superhero and how can you not give the kid her dream! So we did the homage ones in honor of her with Michael Troy and Jonathan Woodward. Then we thought to give them to our partners such as iTunes, Kindle, My Digital Comics and Wowio. We are digital with a lot more, but I did not want to flood the market.
They also have to make sense too. I am not going to toss Condoleezza Rice in a cape and tights, just to sell more books. We have carved out a niche in the non-fiction world of comic books (we just had our 1st one from Simon and Schuster come out). We are taught in schools—but just like a lot other production companies, we have different categories. We take our position seriously but there are times like in the "Honey Boo Boo" case to have fun with it. The series is called "15 Minutes" for a reason; it is meant for fun.
Our partners that we do these exclusives with will be able to use the press to get new readers into their places. The comic book platforms like iVerse, My Digital Comics, and DriveThru Comics see value in these too because we are helping them with the marketing on them. Bottom line—the goal is to get more people reading comic books!!!
Video games are also doing these exclusives too—on Batman Lego, you could only get certain characters at different shops/downloads. We also make sure to rotate the exclusives between the different platforms. A lot of the exclusives for more of the comic book sites are geared towards "homage covers" of great moments in comic books. We just did a BIG TIME RUSH iTunes exclusive with them in an homage to the first Justice League of America appearance. So if a comic book collector wants to get their kids interested in comic books—they now have a fun thing to talk about. The collector can share stories of the Justice League while the kid thinks it is cool!
We are only doing these mostly with the biography comic books at this point. I also think we are the first company to try something like this. We started it after Christmas on the "Female Force: Kylie Minogue" comic book. The fans of Kylie seemed to like what we doing with it and they went to collect all the covers. You can only get that one image from that one platform. They will never be pin-ups in the books or anything like that (that would defeat the purpose). Jon Woodward did a bunch of the covers of the superstar in more "superhero" outfits.
In some cases—like with Britney Spears, Beyonce and Black Eyed Peas—I had extra covers by famed artist Joe Phillips that we were going to use for something else and thought why not!
Comic books have done multiple covers for years, but nobody has experimented with this in the digital world until now.
Do you regularly do variants with your print comics?
We have done them in the past, but we are really only going to do the digital variants at this point.
Have you done them with digital comics in the past?
I don't think anyone has done this yet. We always like trying new and unique things. I like thinking outside the box on this. It is a new publishing frontier and we will have some successes and we will have some failures.
What do you mean when you call them "collectible" in the press release?
I look at these like the digital Stickers that GET GLUE has. I am obsessed with collecting them (I have my "Revenge" stickers coming). With the comic books, you can buy one or collect them all. The best part is we keep the prices the same and if you only want the one you can get your favorite.
Does the print edition have a different cover? Are you doing variants there too?
They do—we have the mass market version that gets released to places we do not have the exclusives with. Those as well will be the print versions too.

A former book editor and newspaper reporter, Brigid Alverson started MangaBlog to keep track of her daughters¹ reading habits and now covers comics and graphic novels for Comic Book Resources , School Library Journal, Publishers Weekly Comics World, Robot 6, and MTV Geek. She also edits the Good Comics for Kids blog at School Library Journal. Brigid was a judge for the 2012 Eisner Awards. Send her an email to wordballoons@gmail.com