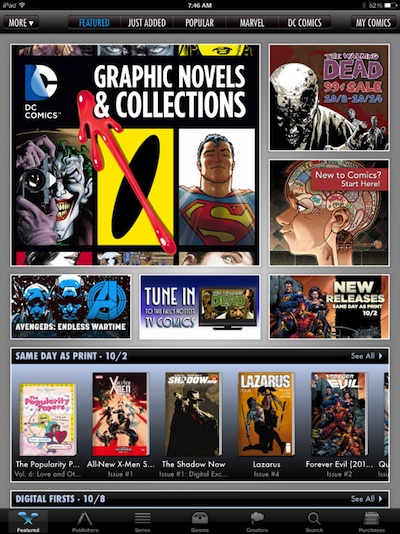 In the beginning, digital comics were weirdly segmented, because different platforms had different exclusives. As those contracts expire and folks realize there's plenty of money to be made in every channel, distribution is evening out.
That's what's happening here: DC announced yesterday that its graphic novels and collected editions will be available via comiXology and Google Play. You might be thinking "Weren't they always?" but that's not the case. In fact, when DC first made its graphic novels available digitally, they were exclusive to Kindle Fire, which caused Barnes and Noble to pull the print editions from its brick-and-mortar stores, because they weren't available on the Nook. On the other hand, comiXology and the DC app were the place to get single-issue comics until last November, when DC started putting them on the Kindle, Nook, and iBooks.
Seems quaint now, doesn't it?
The expansion of platforms means that such classics as Watchmen, V for Vendetta, Sandman, and Y the Last Man are now available on comiXology and Google Play, along with collected editions of the New 52 comics that relaunched many of DC's iconic characters and series two years ago.
A former book editor and newspaper reporter, Brigid Alverson started MangaBlog to keep track of her daughters¹ reading habits and now covers comics and graphic novels for Comic Book Resources , School Library Journal, Publishers Weekly Comics World, Robot 6, and MTV Geek. She also edits the Good Comics for Kids blog at School Library Journal. Brigid was a judge for the 2012 Eisner Awards. Send her an email to wordballoons@gmail.com