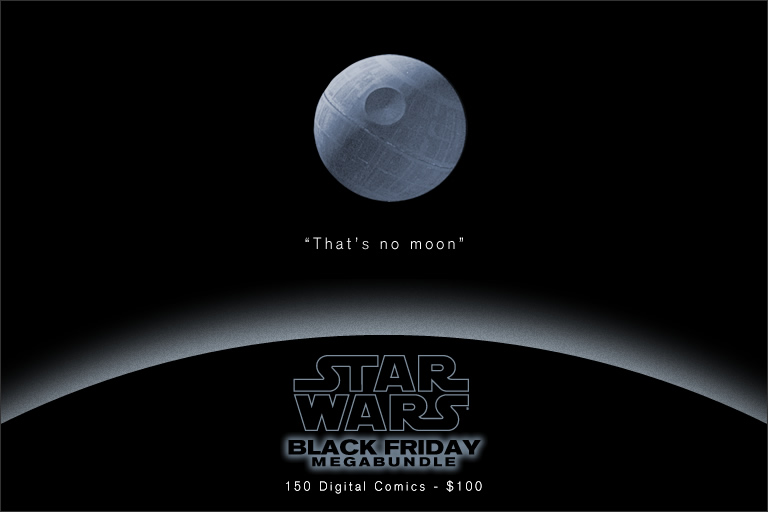 Stay away from the mall this Black Friday and scoop up some digital deals for yourself—or your friends.
Dark Horse has an amazing deal on Star Wars comics: A megabundle of over 150 single issues for $100. The bundle includes Brian Wood's Star Wars (set in the world of the original movie), the kid-friendly Clone Wars, all three arcs of The Crimson Empire, and all sorts of Star Wars storylines that Dark Horse has spun out from the originals over the years.
On Cyber Monday, Dark Horse will offer 50% off all comics on its web store only; just enter the promo code dhdcyber2013 when you check out. The sale is December 2 only, from midnight (PST) to midnight.
ComiXology has a couple of sales that should match every taste. If you're a superhero type, jump on the Avengers vs. X-Men sale, with a ton of single-issue comics for 99 cents each or the collected edition for $19.99 (that's half price).
The folks who are creating a real buzz in the comics world right now are Image, and comiXology's Image sale lets you jump on to a bunch of different series with strong characters and original storylines: Saga, Great Pacific, It-Girl and the Atomics, The Manhattan Projects. All highly recommended, all available in graphic novel format, so you get a good chunk of story for $3.99 to $7.99.
I can't find a direct link, but scroll down comiXology's sale page and you'll also find a good sale on comics from Action Labs, a up-and-coming indy publisher. The deal of the day is the first volume of Princeless, their Eisner-nominated all-ages series, for $1.99. That's a great digital comics gift for any kid who likes adventure and fantasy.
And if you spent all your money at the mall, don't despair: Both comiXology and Amazon are still offering the free DC digital-first comics through December 2.
Manga fans should check out Digital Manga's Blackout Week sale: Get 20% off all purchases on the eManga website by entering the promo code BLACKOUT at the checkout.
For those who like their manga with a side of anime, Crunchyroll is offering a 12-month all-access pass for $69.99, which is half price. That gets you access to their full range of streaming manga, including Attack on Titan and Fairy Tail, as well as
A former book editor and newspaper reporter, Brigid Alverson started MangaBlog to keep track of her daughters¹ reading habits and now covers comics and graphic novels for Comic Book Resources , School Library Journal, Publishers Weekly Comics World, Robot 6, and MTV Geek. She also edits the Good Comics for Kids blog at School Library Journal. Brigid was a judge for the 2012 Eisner Awards. Send her an email to wordballoons@gmail.com