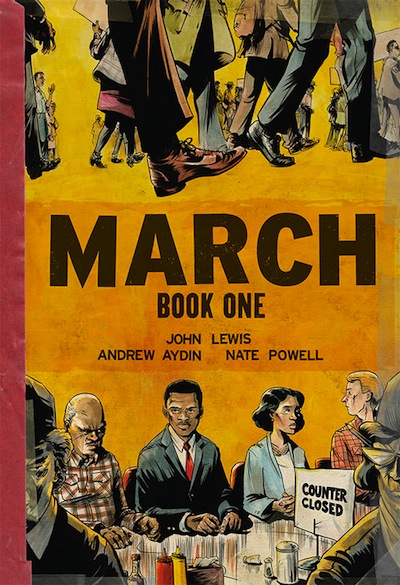 Just in time for the holiday travel season, we have a ton of great digital comics deals. Load up your e-reader now, and you'll be good until the holiday gift cards come in.
Indie publisher Top Shelf is having a big digital sale across all platforms—that's comiXology, Kindle, Nook, Kobo, and Comics Plus. The sale includes steep markdowns on two of the most acclaimed books of the year, Rep. John Lewis's March, the first volume of his memoir of the Civil Rights movement, and Rob Harrell's Monster on the Hill, an all-ages tale (set in a delightful alternate Victorian England) of a monster who can't quite sum up the energy to be scary any more. Pick up the two of them plus Diana Thung's delightful Splendour in the Snow and you'll get a couple of cents back from your virtual sawbuck. There's plenty here for all tastes: Alan Moore, Eddie Campbell, Jess Fink, Jeff Lemire, Harvey Peckar—you can't go wrong.
Here's another cross-platform sale: Superman comics by Grant Morrison, on comiXology, Kindle, and Nook, for 99 cents an issue. This includes his much-loved All Star Superman, a good starting point if you're new to superhero comics or maybe just haven't read Superman in a while; it's one of those comics that you don't have to be a hard-core comics fan to enjoy.
There's been a lot of talk about women in comics lately (just Google it!) so it's nice that comiXology is stepping up with a Women of Marvel sale on titles with strong female leads, such as She-Hulk, Spider-Woman, and Captain Marvel, all for 99 cents each.
Over at Dark Horse, they're marching to a different drummer, literally, with a selection of rock and roll comics for 99 cents each. Check out a couple of Gerard Way's Umbrella Academy miniseries or his The True Lives of the Fabulous Killjoys (with art by the always awesome Becky Cloonan), or maybe Orchid, by Tom Morello (Rage Against the Machine).
Digital Manga is having an Autumn Sale with 25% off 15 different manga titles; be warned that some of them are adult manga and the link may be NSFW. But there are also some teen-friendly yaoi titles and Harlequin romances available at good prices.
The best price of all, of course, is free. So check this out: You can get a free bio-comic about Alan Moore, in which writer Gary Millidge strings together panels from different Moore comics to tell the writer's life story. You'll have to download the Sequential app, which is iPad-only, but go ahead as it's a nice app and they have some interesting free content (including a collection of lost Neil Gaiman comics) and they are also marking down some of Moore's comics.
Finally, you can stay home on Black Friday, Cyber Monday, and all those other shopping holidays and pick up some free digital comics from DC—they will be giving away the first issues of a number of their digital-first series, including Batman '66 and Adventures of Superman, but just one a day, so check the list and mark your calendar.
UPDATE: ComiXology just added another awesome sale: Big markdowns on the Love and Rockets graphic novels. Catch up on all the adventures of Maggie and Hopey, and see what everyone else has been talking about! The sale lasts through Monday evening.
But wait! There's more! ComiXology has also marked down Robert Jordan's Wheel of Time. Individual issues are 99 cents, and you can get a bundle of 43 comics for $34.99.
A former book editor and newspaper reporter, Brigid Alverson started MangaBlog to keep track of her daughters¹ reading habits and now covers comics and graphic novels for Comic Book Resources , School Library Journal, Publishers Weekly Comics World, Robot 6, and MTV Geek. She also edits the Good Comics for Kids blog at School Library Journal. Brigid was a judge for the 2012 Eisner Awards. Send her an email to wordballoons@gmail.com