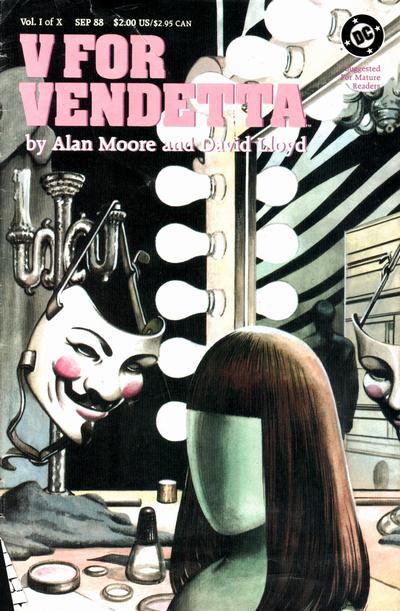 Guy Fawkes Day may be over, but it's never too late to enjoy an Alan Moore comic. Both comiXology and Amazon are currently running a 99-cent sale on comics by Alan Moore, including the iconic V for Vendetta (illustrated by David Lloyd), which gave the world the Guy Fawkes mask as a protest symbol, thus allowing Anonymous to be anonymous. But it doesn't stop there: The 99-cent selection also includes Moore's Swamp Thing, Tom Strong, Promethea, and more.
Here's another sale that's on at both comiXology, the Nook store, and Amazon: DC graphic novels for $3.99. Choose from Batman, Teen Titans, Nightwing, and more, all first volumes of their New 52 series.
ComiXology's Thor sale is no doubt spurred by the release this week of the new movie Thor: The Dark World. Catch up on Thor's recent adventures for 99 cents an issue.
Dark Horse is having a 99-cent sale on what I guess you would call retro heroes: The Black Beetle, Lobster Johnson, The Shadow. Some are old, others are old-ish. You really can't go wrong with Francesco Francavilla's Black Beetle, so if you don't have those already, grab 'em now.
A former book editor and newspaper reporter, Brigid Alverson started MangaBlog to keep track of her daughters¹ reading habits and now covers comics and graphic novels for Comic Book Resources , School Library Journal, Publishers Weekly Comics World, Robot 6, and MTV Geek. She also edits the Good Comics for Kids blog at School Library Journal. Brigid was a judge for the 2012 Eisner Awards. Send her an email to wordballoons@gmail.com