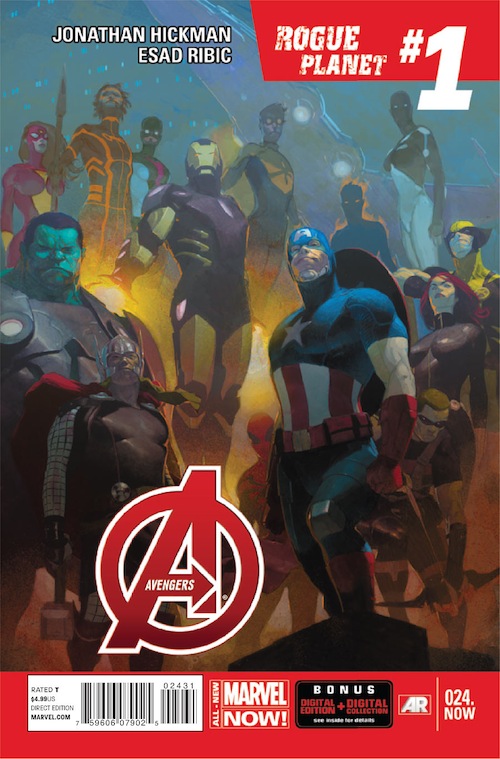 New Comic Day comes a day early this week and next: Because Christmas and New Year's Day are on Wednesdays, when most comics shops will be closed, the new comics will arrive on Tuesday. That means new digital comics will be available on Tuesdays as well.
The pickings are pretty slim this week, thanks to Christmas, but what there is, is choice. Let's take a look at the likeliest prospects.
Avengers #24.NOW: This confusingly numbered comic is also Avengers #1 in the exuberantly named All-New Marvel NOW! chronology. What that means is it's a starting point for new readers, as a new story kicks off in this issue—in this case, a rogue planet is on a collision course toward the Earth, and it's up to the Avengers to stop it. The writer is Jonathan Hickman, who wrote Infinity and a couple of runs of Fantastic Four, S.H.I.E.L.D., and Avengers comics for Marvel, as well as The Manhattan Projects, a critically acclaimed series for Image Comics. Esad Ribic, who teamed up with him on Ultimate Comics: The Ultimates, will be the artist.
Origin II #1: Writer Kieron Gillen and artist Adam Kubert return to the origin story of Wolverine, the first Avenger. This series is a follow-up to the 2001 series Wolverine: Origin, and it picks up Logan's story at the end of that series, at the beginning of the 20th century, at a time when he has left civilization and is living with a pack of wolves. Gillen explains what happens next in this interview on the Marvel site, and it sounds like an intriguing story.
Adventures of Superman #35: DC doesn't have a lot going on with its main lines, so this is a good week to check out their digital-first comics. This issue is part 2 of a three-part mini-series, "The Demolisher," but at 99 cents an issue, catching up won't break the bank.
Robotech/Voltron #1: It's a crossover between two of the great anime franchises of the 1980s: Robotech, a story about three generations of scavenger soldiers who found and repurposed alien technology to fight more aliens, and Voltron, the story of the five Lions who unite to become the single robot Voltron. Published by Dynamite Entertainment, this five-issue mini-series is just the beginning: Dynamite has been publishing Voltron comics for two years, and at this year's Comic-Con International in San Diego they announced they will publish a new line of Robotech comics as well. Tommy Yune, who is best known for his work on Speed Racer, is the lead creator on the crossover. If you're curious, there's a preview here.
Deceivers #1: This new series, written by Steven Grant of 2 Guns fame, promises a lot: It's billed as a "globetrotting espionage action/comedy populated by charming, clever characters and thrilling sleight of hand." The story follows two charming American con men who are doing pretty well in Europe until someone else gets in on the game—and they join up with the CIA to go after him. 2 Guns, which was made into a movie this year, was fun and full of action, and Deceivers looks like it will be in the same mold.
A former book editor and newspaper reporter, Brigid Alverson started MangaBlog to keep track of her daughters¹ reading habits and now covers comics and graphic novels for Comic Book Resources , School Library Journal, Publishers Weekly Comics World, Robot 6, and MTV Geek. She also edits the Good Comics for Kids blog at School Library Journal. Brigid was a judge for the 2012 Eisner Awards. Send her an email to wordballoons@gmail.com