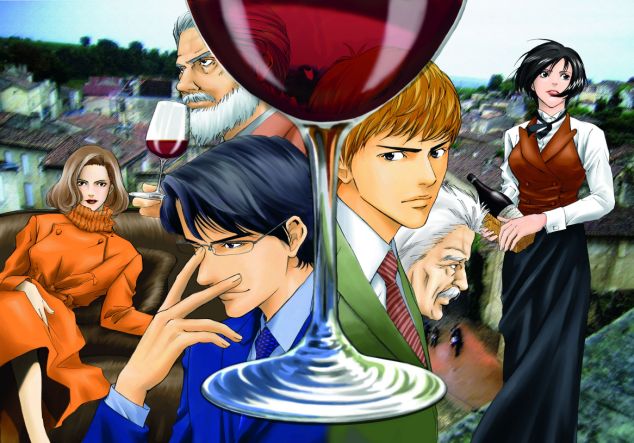 Vertical publishes some of the most interesting manga available in English, but they have not had a digital program—until now: They recently announced that they will make three series available as e-books: The astronaut-school story Twin Spica, the science fiction story 7 Billion Needles (based on Hal Clement's novel Needle), and the soap opera about competing wine connoisseurs, Drops of God. Unlike most other manga publishers, Vertical has not designed its own branded digital service but will make the books available on Kindle, Nook, and iTunes.
I asked Vertical's marketing director, Ed Chavez, to unpack their digital strategy a bit.
Good E-Reader: First of all, why did you decide to go the Nook/Kindle/iBooks route rather than having your own branded service?
Ed Chavez: Vertical is a tiny company with budgetary constraints, so we could not afford to develop an app and we do not have the staff to maintain one. And honestly, I wonder about the effectiveness for something like that from an indie-publisher perspective.
Vertical's brand recognition has a small footprint. Spending already limited resources to attract an even more fragmented community might be aggressive at best, ill-advised at worst.
On the other hand, the Big-3 eBook platforms do a good job selling books, and we have seen results from them with our digital prose line. We know how effective they can be and we also understand that people want accessibility. The Big-3 provide a lot of positive options to readers.
Why go with e-book platforms rather than hooking up with comiXology or even another manga publisher?
Actually we have been and are still in talks with comiXology and we were in talks with JManga, however, Vertical is exclusively distributed by Random House. All sales contracts must be negotiated through our distribution partner, so we hope these groups can work out something to help Vertical be on as many platforms as possible.
Will these e-books be available worldwide? If not, what is the territory (and why the restriction)?
At this time our launch titles are worldwide English. Future licenses may not have such luxuries due to contracts with the original creator. Obviously Vertical is not the lone international publisher for many of our books, so to not conflict with existing regional rights, the original rights holder may set such restrictions to protect those relationships.
Which titles will you be releasing digitally, and do you anticipate adding more? Will you be focusing on a particular type or genre for digital release?
We have been releasing eBooks for a year now. But most of our releases so far have been prose. We will be expanding to manga this Spring with The Drops of God, Twin Spica and 7 Billion Needles.
With a small manga catalog, we'll just focus on the backlist at this point.
What will your digital release schedule be—how aggressive will you be about adding new volumes?
We'll be releasing a volume a month to start. That said, Needles and Drops are short series so they'll wrap up quite quickly. Twin Spica on the other hand will go at a slightly more accelerated pace, with three books released every two months.
The prices of your digital manga are considerably lower than print editions. Why is that?
Market pressure. Having worked with Random House since 2006, together we have long seen the impact on price for eBooks. Digital novels and non-fiction are generally less expensive than their paper counterparts. The prices are comparable to what our collective philosophy has been for novels, and not far off what we have seen from other publishers. So we are fine passing on some savings to readers for backlist books.
For years we heard that Japanese licensors were reluctant to permit publishers to release manga digitally. How has that attitude changed in recent years, and what caused it to change?
Global pressures. Actually, if I were to be frank, just America.
While Japan has had domestic eBook sales for a while, few services have been very successful. But with the growth of the Kindle, Nook and iBookstores, Japanese publishers have been desperately playing catch up to not only learn about the digital marketplace but also be a part of it. Some Japanese publishers have tried and most initiatives have failed as they have done poor market research (mainly not understanding international purchasing habits, poor marketing, or even worse have blindly believed previous eBook booms to include similar sales for manga or comics in general); while others have simply had their stances thaw out hoping to gain revenue streams or to prevent piracy.
Then again, I think eBooks in general have only been a viable business in the last three years, so being a year or two behind isn't that surprising. What does surprise me is how little is being done regarding digital in other, more robust international manga markets.
Do you think digital publishing can push some marginal manga into profitability?
No. At this time, I do not see that as a possibility. From what I have heard and the sales data I have read historically this is a major challenge for manga. Those overhead costs are just quite steep to start. Sales have to be significantly better digitally than in print to push titles into profitability. Higher royalties and lower MSRP rates, compounded by existing distribution fees, do not help.
Would you consider publishing digital-only manga? If so, what titles would lend themselves to that?
It is something we have discussed. The concept of direct-to-digital manga is always going to have one big hiccup…licensing. It is easier to take on those overhead costs (translation, lettering, editing, advances…) when print books get money upfront from vendors. There is a cash flow shift in digital where there are no wholesale (bulk) transations with vendors.
Honestly, I don't know what could work in that model. JManga was built on a model like that but those titles did not have the name recognition even though quite a few were from established authors and a number had media tie-ins. Viz has tried that with some brand new SJ series launching simultaneously in English and Japanese but I do not think most of those titles have been hits either. It's a tough call. But I think it can work if expectations and costs are lowered.
Do you read manga digitally? If so, what is your preferred platform?
I do. I've been reading Dark Horse's Kurosagi Corpse Delivery Service and Viz's One Piece. In both cases, I have used their respective publisher's apps. Viz's app is really snappy and has been prime time ready for almost two years now. I love how it is now starting to add some deep backlist titles as a better representation of the breadth of Viz Media manga.
I now prefer Dark Horse's app, though. I like their overall presentation. Their resolution rates and how they handle two-page spreads have really impressed me; almost to the point where I might prefer reading some titles that way (specifically for titles that are really visually dense).