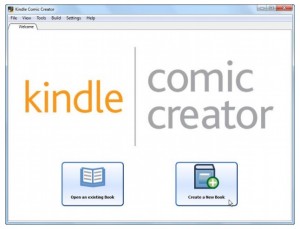 Amazon launched its new Kindle Comic Creator (KC2) last week with a minimum of fanfare, but it could be a game-changer.
The software allows users to upload comics, graphic novels, and manga in a variety of formats—PDF, jpg, tiff, png and ppm—and quickly convert them to Kindle e-books. They can also import EPUB and KF8 files that are created in accordance with the Kindle Publishing Guidelines. The software supports facing pages, double-page spreads, and right-to-left page turns (most common in manga), as well as Kindle Panel View, which allows readers to view the comic one panel at a time (in a flow specified by the creator), which makes for an easier read on small devices such as the Kindle Paperwhite and the iPhone and Android apps. The finished product is readable on the Kindle Fire HD, Kindle Fire HD 8.9", Kindle Fire, Kindle Paperwhite, and Kindle Keyboard, as well as the Kindle iPad, iPhone, and Android apps.
Once the comic is uploaded and formatted, the author can upload it to the Kindle Store and retire to a small island in the Caribbean with the proceeds…
Or not. As with other Kindle books, the author sets the list price and then can choose from two royalty schemes: 35% of the list price on every book sold or 70% of the actual sale price of the book in certain territories (including the U.S.) The catch with the 70% royalty is that Amazon can reduce the selling price to match a competitor's price for an e-book or print book, or to match their own price for a print book. It's interesting that Amazon recognizes the general reluctance to pay more for digital than for print. Also note that Amazon takes out the cost of "delivery" before calculating the royalty; that seems to be about six cents per e-book. There are some other caveats as well, and naturally, it's a good idea to read the terms and conditions carefully before proceeding.
Amazon's program is not unlike comiXology Submit, which allows comics creators to upload their work to the comiXology platform. ComiXology Submit users get a 50% royalty, but that's net, after Apple's share (for in-app sales), or other distributor costs, and credit card fees. Brian Cronin took a close look at the terms of comiXology Submit recently at Comic Book Resources, and while the Submit and KC2 programs are quite different, this column does offer some points for prospective KC2 users to think about.