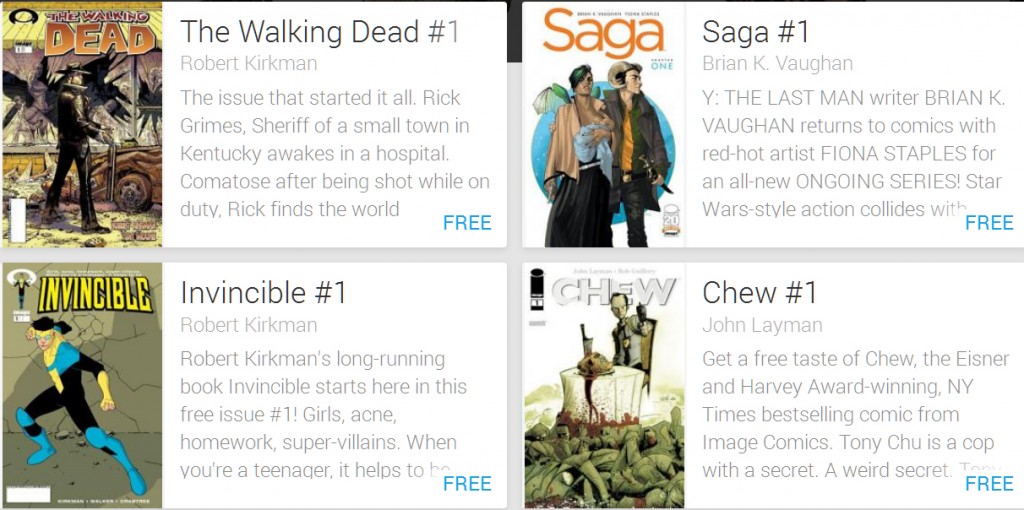 Image Comics have descended into the Google Play Books store and readers will be able to purchase over 500 single issues and graphic novels. Seminal comics like the Walking Dead and Saga are all available and should be a boon for people who don't like dealing with Comixology or the Amazon store.
There are a number of incentives kick things off, Image is giving away free issues of The Walking Dead, Saga, Chew, Invincible and Super Dinosaur series to get people downloading and checking the library of content out.
Image has been around since 1992 and has had a number of legendary writers and artists who have published with them. Todd McFarlane, Erik Larsen, Jim Valentino, and Marc Silvestri are but a few of the usual suspects. The comic company has developed a fairly loyal following over the years, due to some of the breakout successes like the Walking Dead.
Eric Stephenson from Image said "It's exciting to bring digital versions of Image Comics titles to the Google Play Store. Our philosophy toward digital content is expanding as the market evolves and grows, and this is just one of many steps we're taking as we continue to move into the future."