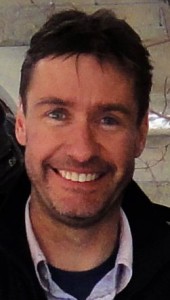 The hobby and comic retailer site ICv2 has posted a three-part interview with Ted Adams, the CEO of IDW Publishing, in which he talks about his company's digital strategy. IDW was a pioneer in digital comics—they started publishing Star Trek comics to the iPhone back in 2008, before there was a comiXology app, an iPad, or even in-app buying. The success of that first comic took everyone by surprise and helped pave the way for the robust digital comics market we have today.
In the interview, Adams reveals that 15% of IDW's sales are digital, up from 10% (of a smaller base) last year. Adams attributes the increase in both print and digital sales to iPad (and, presumably, other tablet) users who are rediscovering comics on their devices, and he also sees marketing opportunities that are unique to digital:
"What I like about ebooks is that it allows us to market event comics in a way that's tough for us to do in the direct market. I can give you a specific example. The Star Trek movie came out a few weeks ago, and we had comics that lead directly into the movie written by one of the guys who wrote the movie. These are very canon-focused prequel comics that lead into the movie, and then this week, we had a comic coming out that's a sequel to the movie, that tells events that happened right after the movie. Again, all canon, co-written by one of the guys that wrote the movie. That message is frankly tough to communicate to the direct market in a way that reaches the consumer level, whereas in the ebook channel, I wouldn't say it's easy, but you can actually have that communication. The comiXology app has the opportunities to do bricks that make it very clear that this Star Trek content leads into the movie you just saw in theaters. It's the same thing if you look in the iBook store, the Kindle Store and on Amazon.com proper. Our Star Trek apps talk all about it."
And we reviewed it here! Cross-media marketplaces like Amazon and the iTunes store do make it easier for fans of a particular franchise to find the comics associated with it, and IDW, which has a lot of licensed properties, is clearly making the most of those opportunities.

A former book editor and newspaper reporter, Brigid Alverson started MangaBlog to keep track of her daughters¹ reading habits and now covers comics and graphic novels for Comic Book Resources , School Library Journal, Publishers Weekly Comics World, Robot 6, and MTV Geek. She also edits the Good Comics for Kids blog at School Library Journal. Brigid was a judge for the 2012 Eisner Awards. Send her an email to wordballoons@gmail.com