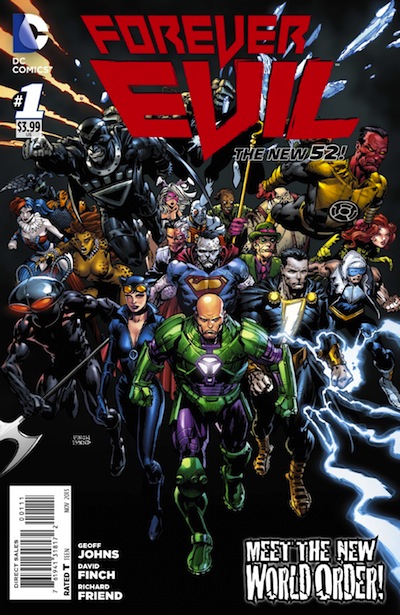 Warning: Spoilers ahead for Justice League and Trinity War!
DC Comics is known for its good-guy superheroes, but this month they will turn all that upside down.
The DC brass has dubbed September "Villains Month," and they will turn their New 52 comics over to the bad guys, with standalone stories featuring the most notorious villains of the DC Universe.
But that's not all: Also this month, DC is launching a new seven-issue series by Geoff Johns and David Finch, titled Forever Evil, whose centerpiece is the Crime Syndicate of America, the evil counterpart to DC's Justice League of America that arrived at the end of the recently concluded the Trinity War crossover event. In this series, the CSA sweeps in most the other villains, except for Lex Luthor, who isn't much of a team player—he sets up his own army to fight them instead.
Meanwhile, each of the New 52 stories will spotlight a different super-villain. Some are origin stories, while others shed light on their motivations, and in order to get them all in, there are extra issues of some comics; so, for instance, there will be issues 23.1, 23.2, 23.3, and 23.4 of Batman this month, each featuring a different villain. In Batman 23.1: The Joker, we see one of The Joker's early adventures and get a sense of his origins as a villain. If you're wondering where Bane is, he shows up in Batman 23.4. Some of the other comics look interesting as well. Superman meets his exact opposite, created by Lex Luthor by manipulating his DNA, in Superman 23.1: Bizarro. I'll also point you toward Justice League of America 23.1: Deadshot because it's scripted by the very clever Matt Kindt, so we can expect some twists in the story.
In an interview with USA Today, DC co-publisher Jim Lee explains that heroes and villains aren't all that far apart: "When you look at a character as determined and obsessed as Batman, and you look at the flip side of that and see a horrifying villain in Joker, you see why Batman's a hero. You see the line that separates him from the dark side," he said.
A former book editor and newspaper reporter, Brigid Alverson started MangaBlog to keep track of her daughters¹ reading habits and now covers comics and graphic novels for Comic Book Resources , School Library Journal, Publishers Weekly Comics World, Robot 6, and MTV Geek. She also edits the Good Comics for Kids blog at School Library Journal. Brigid was a judge for the 2012 Eisner Awards. Send her an email to wordballoons@gmail.com