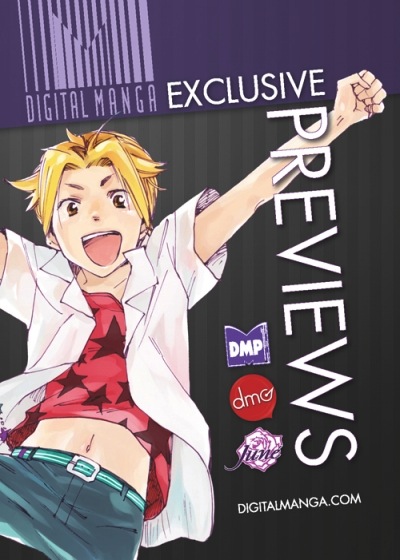 In the beginning, when people talked about digital comics, there were the two models of streaming and downloading and it was an open question which would prevail. The underlying question is whether digital comics are something readers just dip into now and then or something they want to keep forever.
Over the past few years, the model has evolved and it's now clear that the downloads have it. That's how all the major comics sites work—comiXology, Comics Plus, and the e-book stores such as Kindle and Nook. The only major streaming sites that are left are Marvel's Digital Comics Unlimited and the sister manga sites JManga and JManga7.
Two manga publishers made big changes in this direction in the past few weeks. Digital Manga revamped its streaming manga site eManga to allow downloads, and Viz announced that subscribers to its digital magazine Shonen Jump Alpha will be able to keep every issue in perpetuity (previously, the magazines were supposed to expire after one year).
Shonen Jump Alpha runs chapters of a number of different series shortly after they appear in the Japanese Shonen Jump print magazine, and later this month, it will go to simultaneous publication with Japan. Readers can buy single issues for 99 cents or subscribe for a year (48 issues) for $25.99. Originally, single-issue purchases expired after two weeks and the subscription issues would disappear after one year. Viz's announcement changed all that; now not only will subscription issues never expire, but single-issue purchases that had expired will be restored. Not only will readers get to keep those issues even after their subscriptions end, they will be able to download them again if they delete them from their devices.
Digital Manga made an even bigger change when it relaunched its eManga, which had previously been a streaming manga site. It allows readers to permanently download manga in one of seven different formats or read the books online:
When a customer purchases a title, you can immediately read the title on eManga's native online reader and download one file type of your choice. Subsequent downloads of different file types will be a small additional cost. The ebook files are encryption-free, allowing them to be supported on all devices. Our files are protected in a unique way that still deters unauthorized distribution without the customer losing any of the freedom and control they desire.
For readers who want to test out how the files will work on their own devices, Digital offers a free 200-page manga sampler.
Streaming offers a lot of advantages, but it is best suited to a program like Digital Comics Unlimited or JManga7, where readers can access a large library of comics all at once for a fixed price. Consumers have made their feelings known, fairly vocally, that when they pay for a specific title they expect to be able to keep it and read it whenever they want to. This is an issue for digital comics services, who really only sell a license to read the comic, not the comic itself. This raises the possibility that if the service ceases to exist, the comics will disappear as well. Digital's permanent downloads are a step in the right direction, as they are independent of any particular comics service or device.
A former book editor and newspaper reporter, Brigid Alverson started MangaBlog to keep track of her daughters¹ reading habits and now covers comics and graphic novels for Comic Book Resources , School Library Journal, Publishers Weekly Comics World, Robot 6, and MTV Geek. She also edits the Good Comics for Kids blog at School Library Journal. Brigid was a judge for the 2012 Eisner Awards. Send her an email to wordballoons@gmail.com